Stofan | A Public Living Room
Stofan is a temporary social space created by different users, who each month show us how they would like to use the library. Each Stofan is a unique and unexpected space at the library where conversations begin. It is an inviting space to those passing by, to sit down and hopefully start a conversation with someone else.
The aim of Stofan is to create many different versions of social spaces at the library. The creators of Stofan are not only in conversation with other users but also amongst themselves about what kind of public spaces they want to see in our society.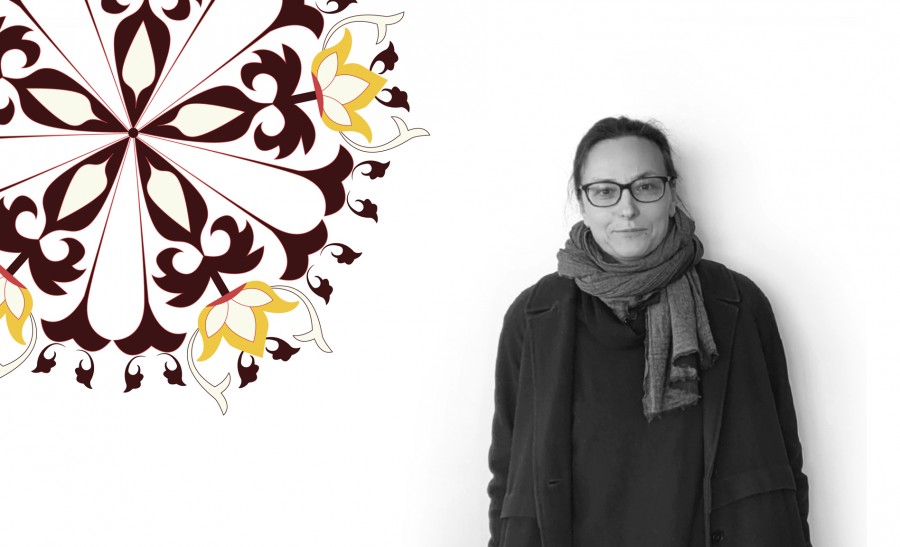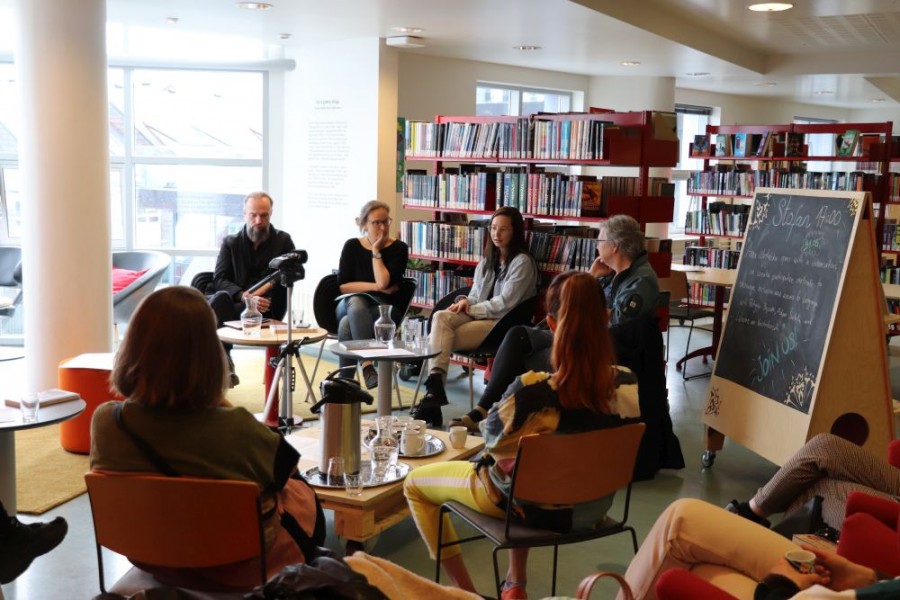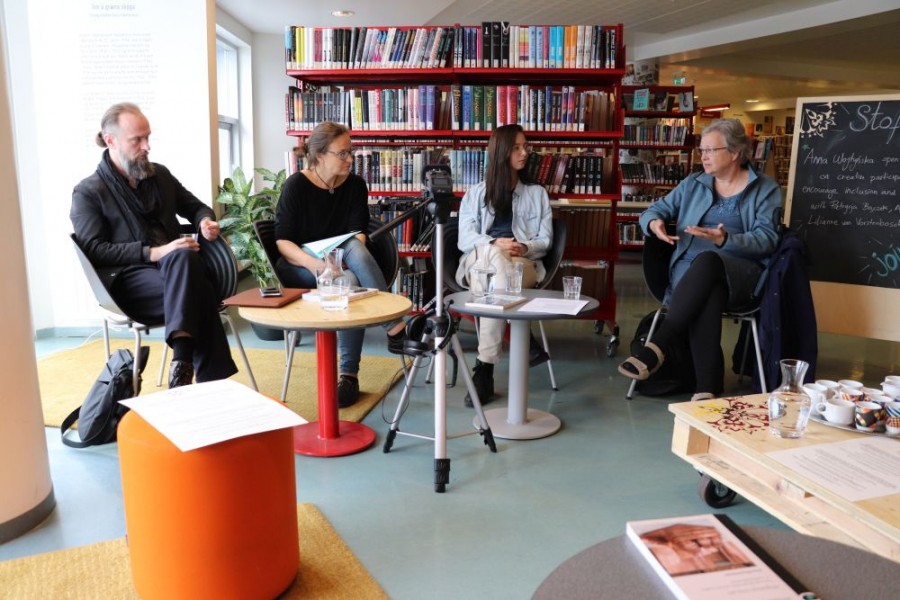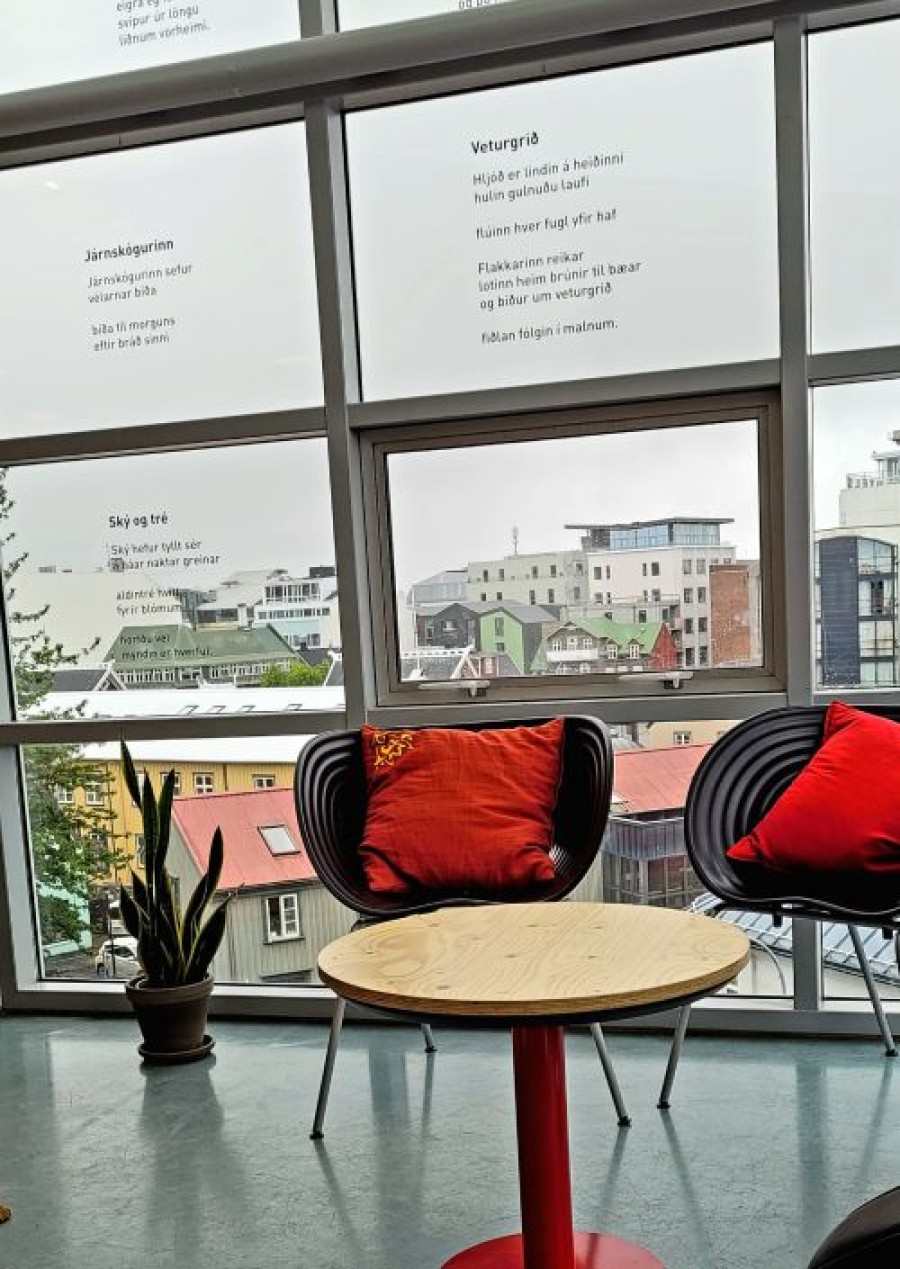 "How can we facilitate participation beside the language, so it enables language acquisition?" Anna Wojtyńska on creative methods to create a more inclusive society. 31st of May until 6th of June 2022
Anna Wojtyńska curated the May edition of Stofan and placed on the 5th floor Grófin. On  31st of November she started a conversation with Patrycja Bączek, Adam Świtała og Lilianne van Vorstenbosch, who apply in their professional practice and/or academic enquiry creative methods like dance, music or movement to encourage inclusion. Anna is a is a postdoctoral researcher at the Department of Anthropology, University of Iceland. Her main research focus include labour migration and transnationalism.
About the creative process
An interview with Anna W. on the creative process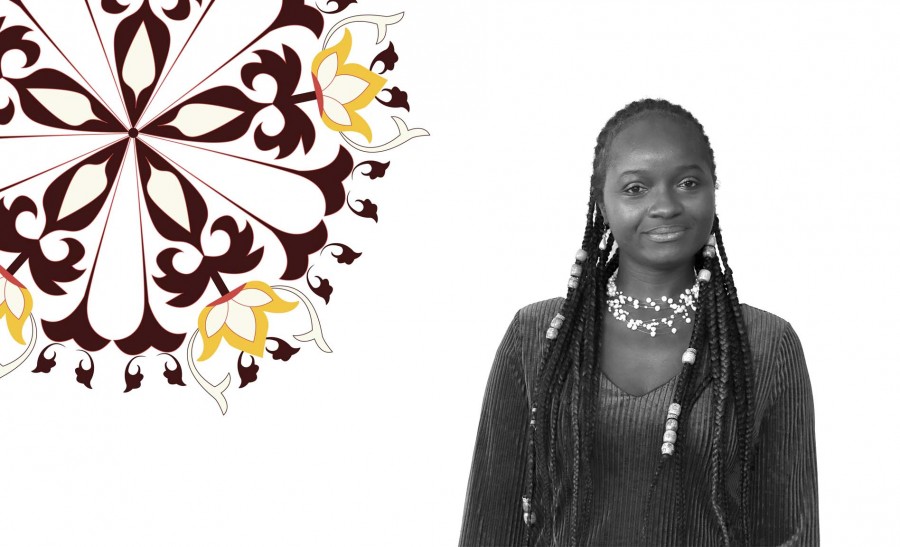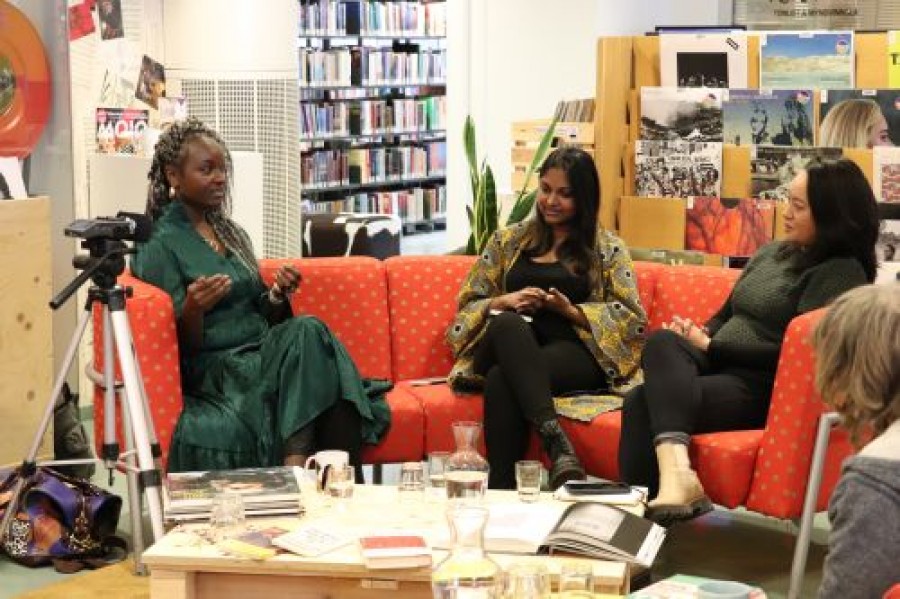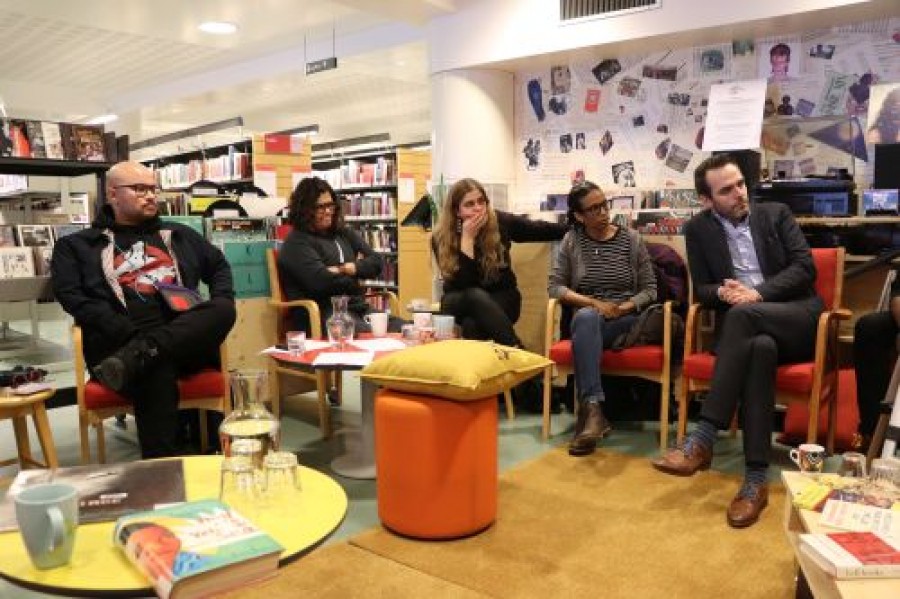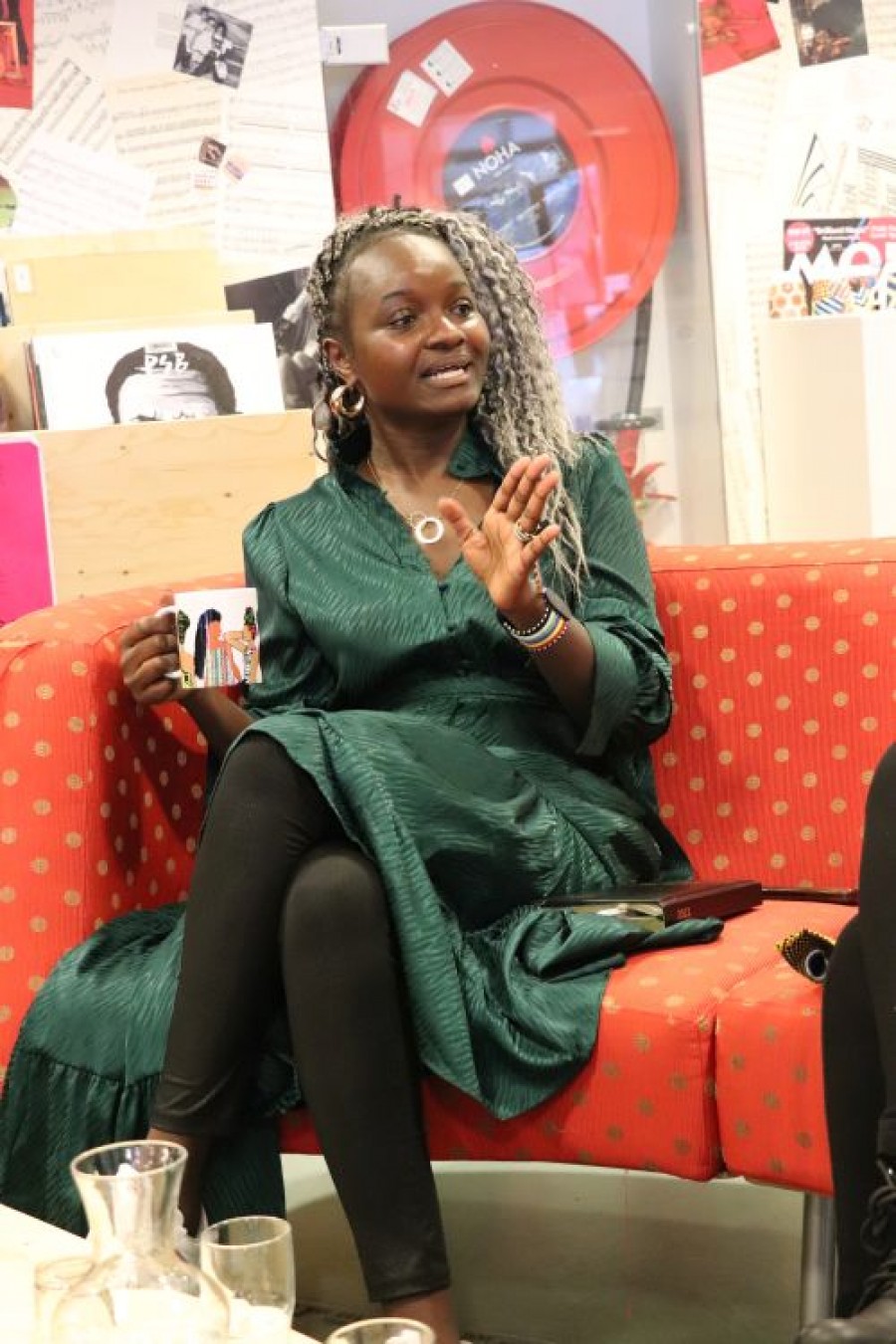 " I am fascinated by Iceland being hailed as the best place in the world to be a woman."
Achola´s Stofan on inclusive policies and communities.
29.03.-05.04.2022
Achola Otieno, who works in the public sector, curated her personal edition of Stofan in March. She opened the space with the first conversation on the 29th of March titled Beyond Melanin. She discussed how some issues become mainstream while others are OTHERED. And how these two worlds meet. Her interest lies in analysing policies, their significance and their purpose in building inclusive communities, drawing from her personal experience as an immigrant living in Iceland, coupled with her expertise in human rights.
About the creative process
Here is an interview with Achola on the creative process.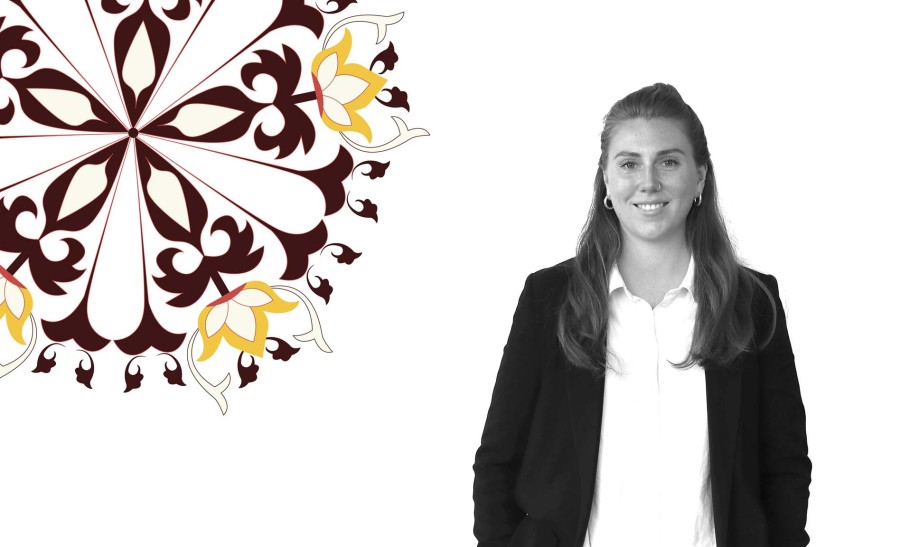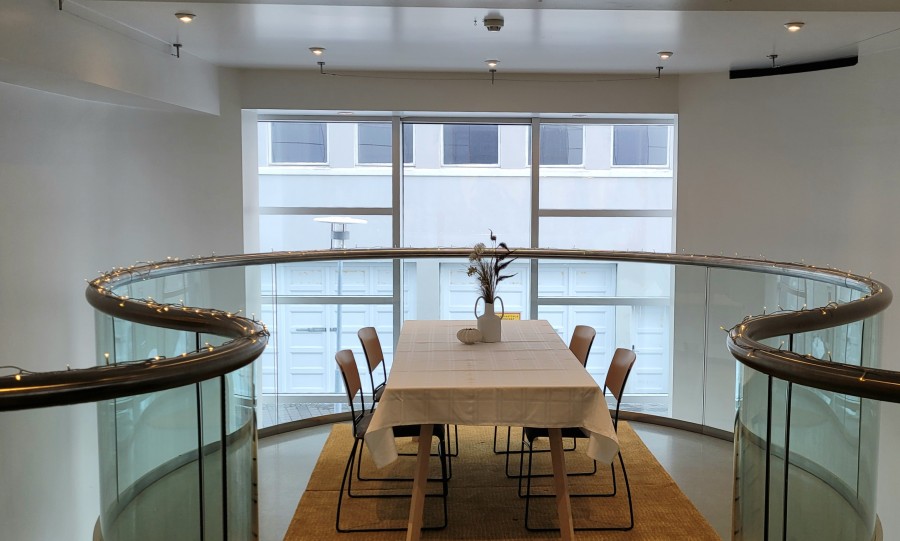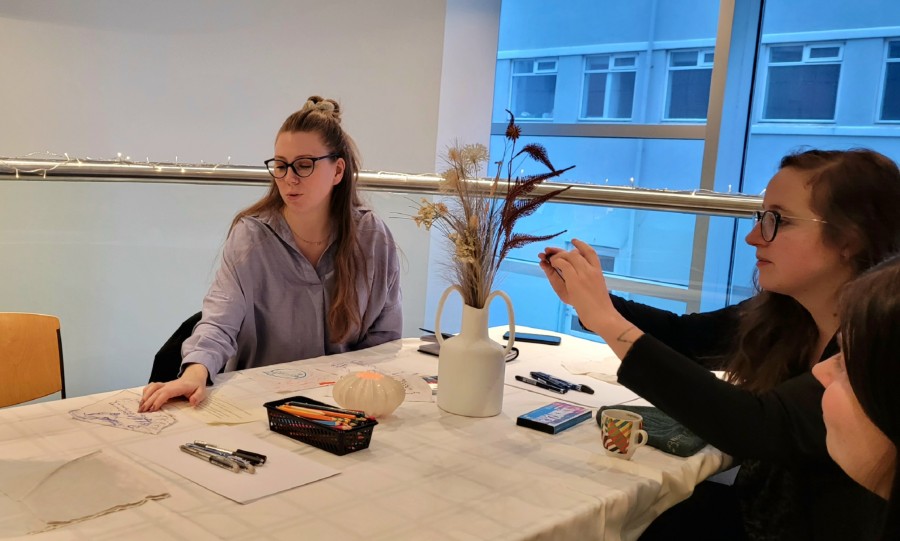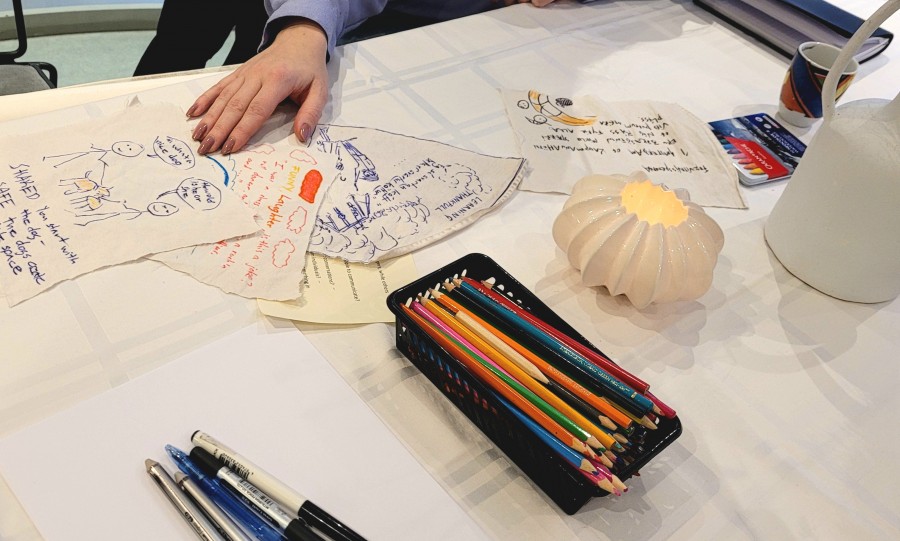 "Where have you gained a spontaneous conversation with a random person?"
Guðný Sara´s Stofa on random encounters
16th-22nd of February 2022
Guðný Sara Birgisdóttir, a an artist and a designer, curated the February edition of Stofan | A Public Living Room, where she explored social spaces and accidental storytelling within those spaces. Usually, we go to the library to seek stories, to open a book and find out new information. It is a place for content and curiosity. But what if we solemnly came to the library to tell a story? Guðný Sara invited every attendee to tell her a story about random encounters that sticks out from the rest. The stories she collected were some just a few words and others longer descriptions of interactions with strangers. The collected stories create a base of her artwork, a book or a wall piece where she connects the stories. The art piece will be for display at her exhibition in April at the library.
About the creative process
Here you find an interview with Guðný Sara on her personal version of Stofan and an inverview for the radio programm Víðsjá of Icelandi national radio service Rás 1 (only in Icelandic).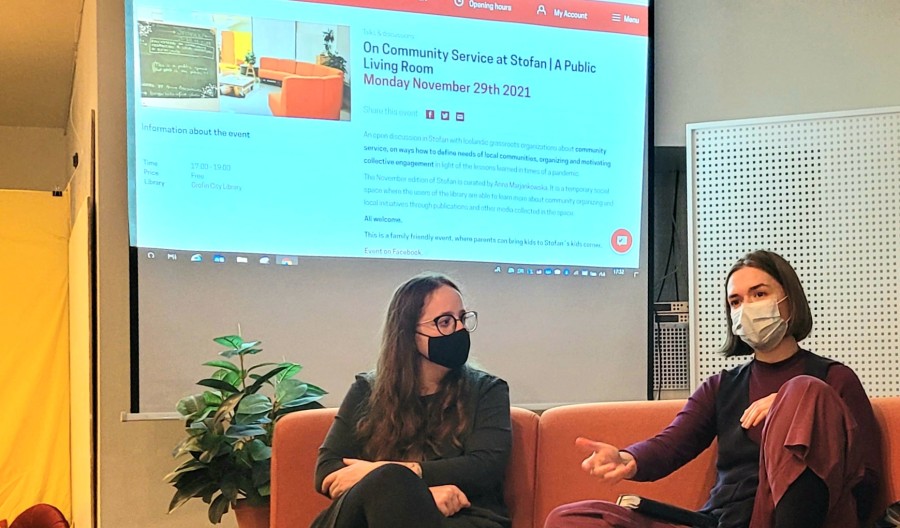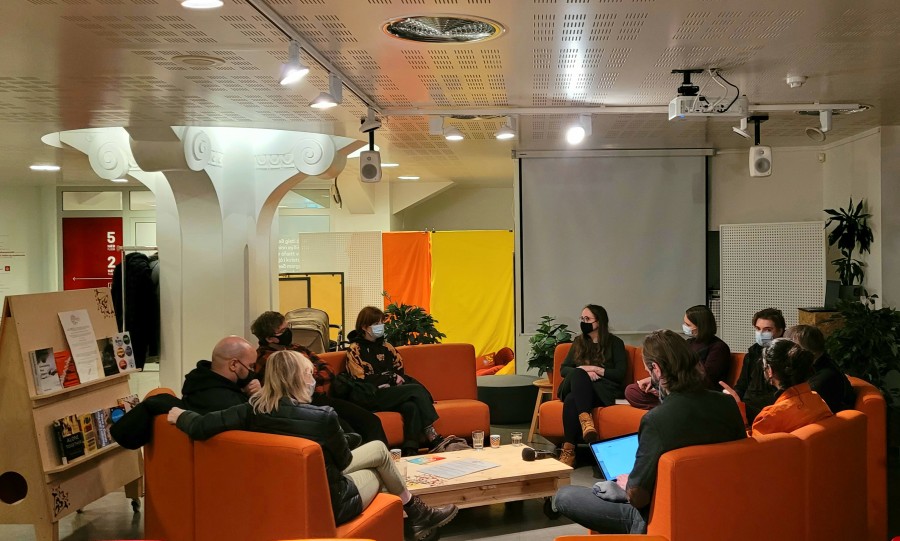 "I want to show a possibility of voluntary participation in the library's program and changing its shape."
Stofa Anna M. on community service
23rd-30th of November 2021
Anna Marjankowska curated the November edition of Stofan and placed it in Torgið on the 1st floor in Grófin. On Monday the 29th of November she invited Icelandic grassroots organizations for a discussion about community service, on ways how to define needs of local communities as well as on organizing and motivating collective engagement in light of the lessons learned in the most resent pandemic. At Anna´s Stofan users of the library were able to learn more about community organizing and local initiatives through publications and other media collected in the space. More on the conversation Anna started here.
About the creativ process
You can find a  talk with Anna on the creative process is here.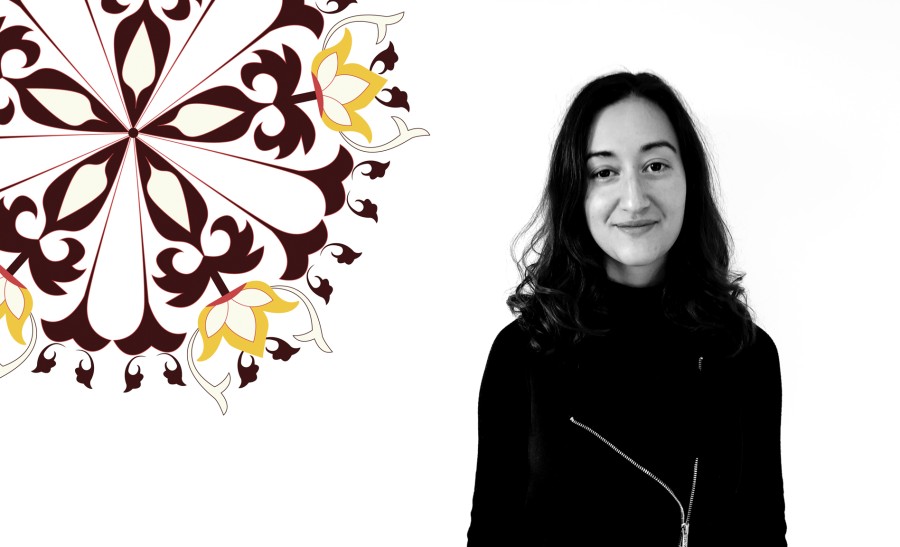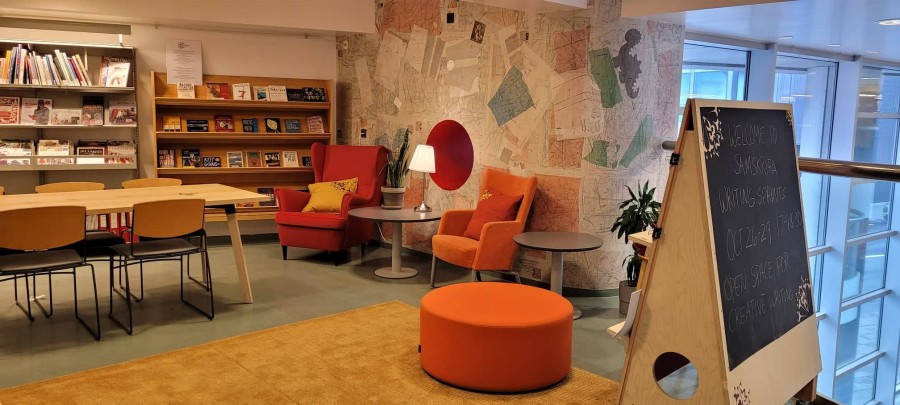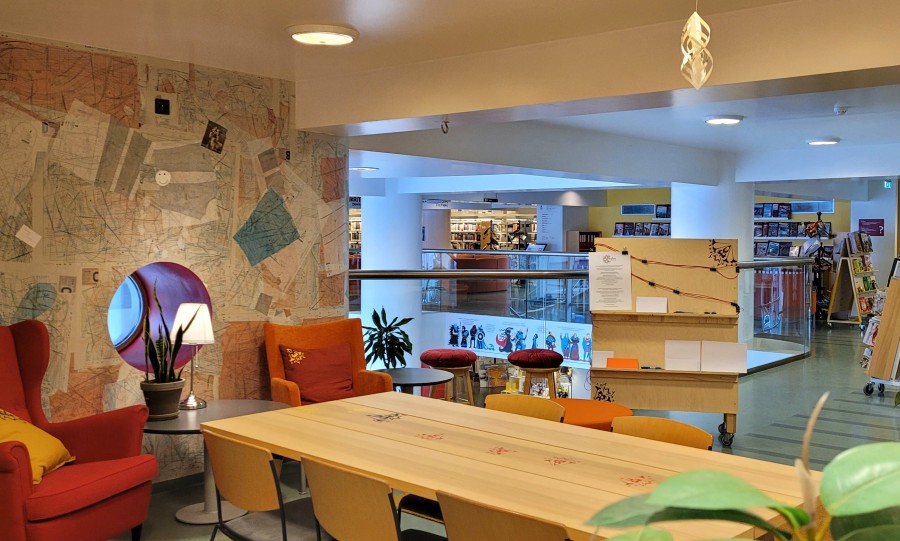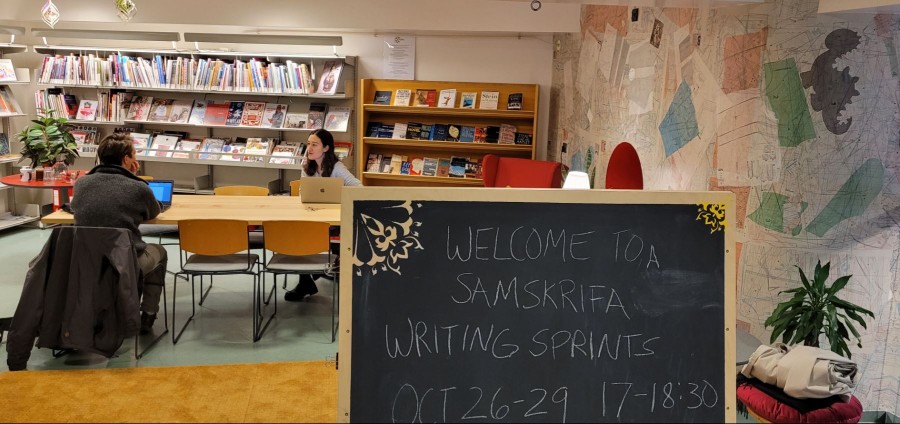 "The hardest part of writing is finding time."
Michelle creates Stofan | A Public Living Room 
26th of October 2021 at 5 pm in Grófin
Samskrifa is a space for writers of all kinds- with all levels of experience and all languages, to get together and write.
The hardest part of writing is finding time, free from distractions to work on your craft.
This Stofan is the creation of Michelle Spinei and will be open for writers to drop in throughout opening hours as a space dedicated to write in.
Samskrifa Writing Sprints with Michelle
For writers who need more motivation and want to write with others for accountability there are writign sprints
from 26th-29th of October, each at starting at 5 pm.
How do writing sprints work? 
Join us for dedicated writing time. We'll meet and introduce ourselves and share what we're working on. We'll set our timers for 45 minutes, encourage one another and write. After time is up, we'll check in and have a short break then work for another 30 minutes. Afterwards we'll say what we worked on.
About the creative process
Here you find an interview with Michelle on her personal version of Stofan.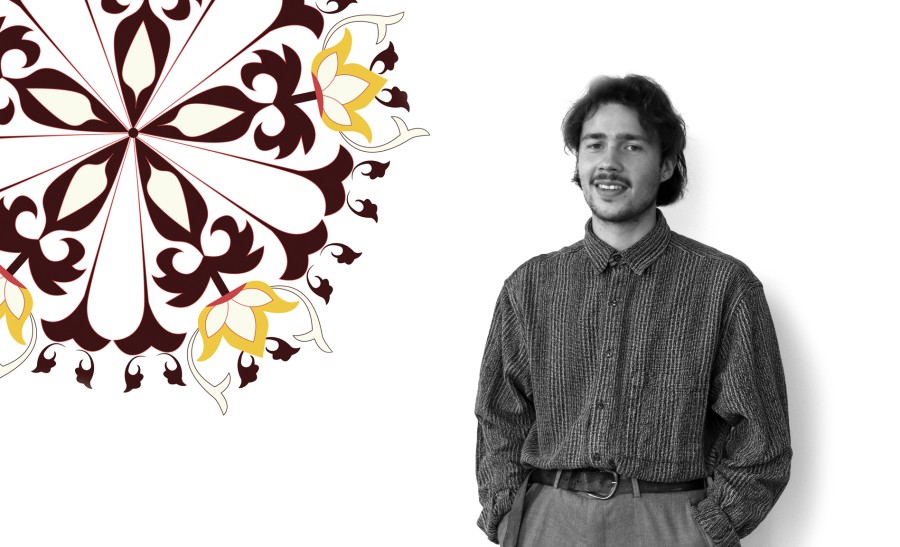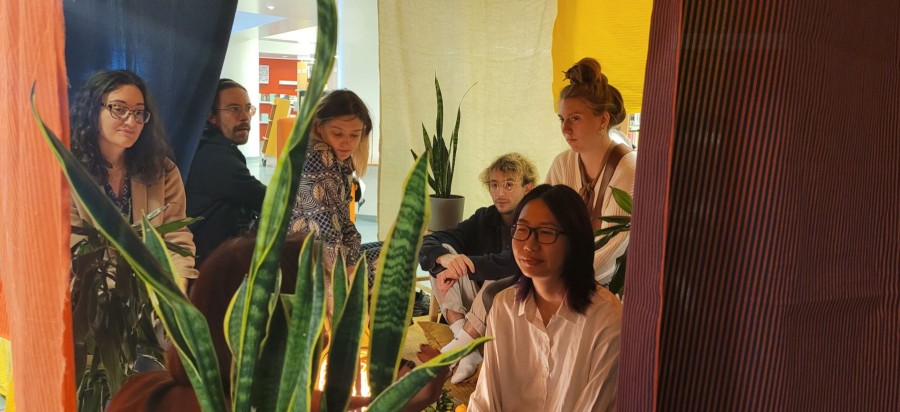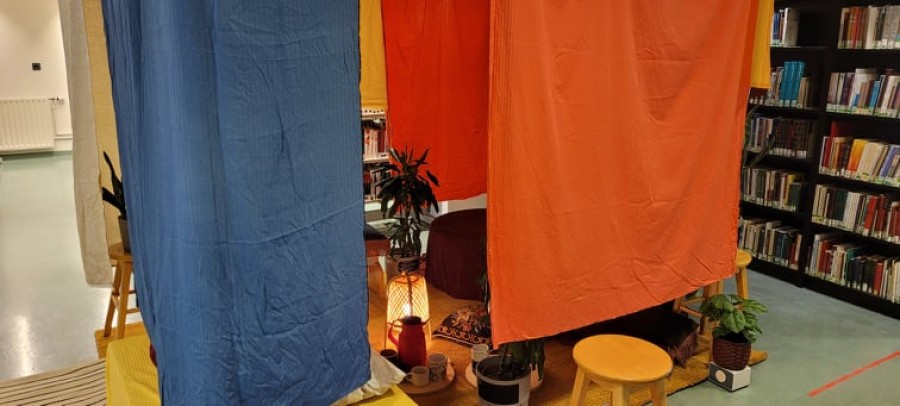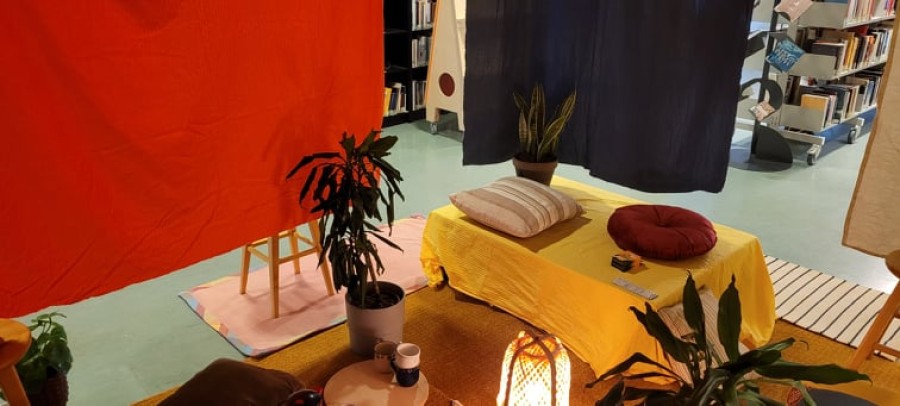 "Good conversations derive from hidden places."
Janosch creates Stofan | A Public Living Room 
28th of September 2021, at 5 pm in Grófin
In this first edition of Stofan I want to continue my research about foreign communities in Iceland and their cultural history and importance. I will involve parts of my graduation project from MA Design at LHÍ to nurture the conversation. In the centre of the discussion will be the benefits and problematics of the Facebook community "Away from home – living in Iceland", a private group with more than 21 thousand members with immigration background of all kinds. The content of the group is problematic when it comes to political opinions, discussions about racism and nationalism but it stands out as an archive of knowledge about almost everything a foreigner could possibly face in Iceland. A very exciting space, intimidating but important to create a discussion. With the conversation I am trying to bring the community into the physical world. And raise questions like: Why do people feel the need to share about topics like racism in this group? What is their aim? What do people want from this group and what can it even give you back? Is the moderation done good? And how does one even manage this big of a group with hundreds of posts every week? Everyone who is interested in this discussion is very welcome to join us.
About the creative process
Here you find an interview with Janosch on the creation of his own public living room.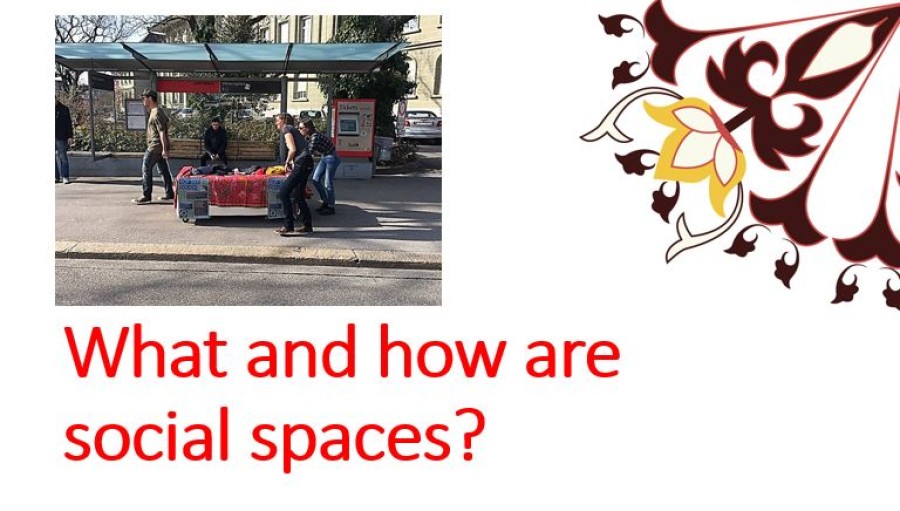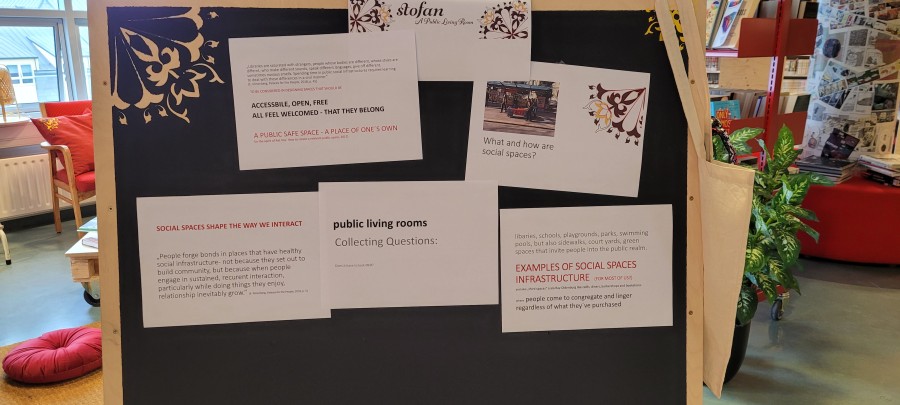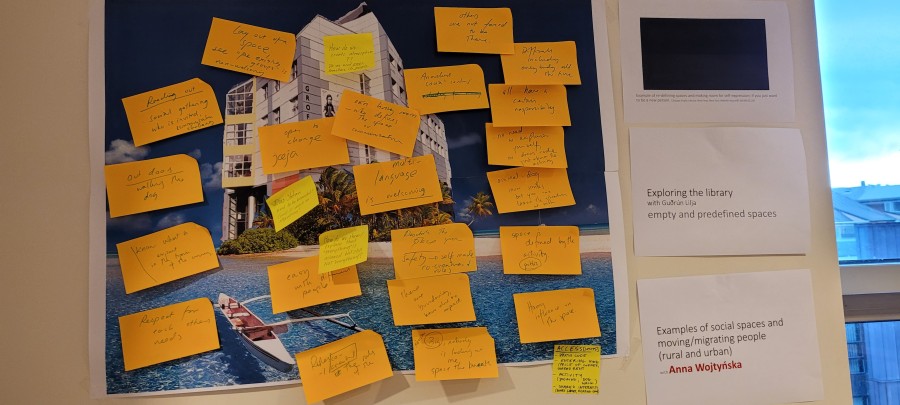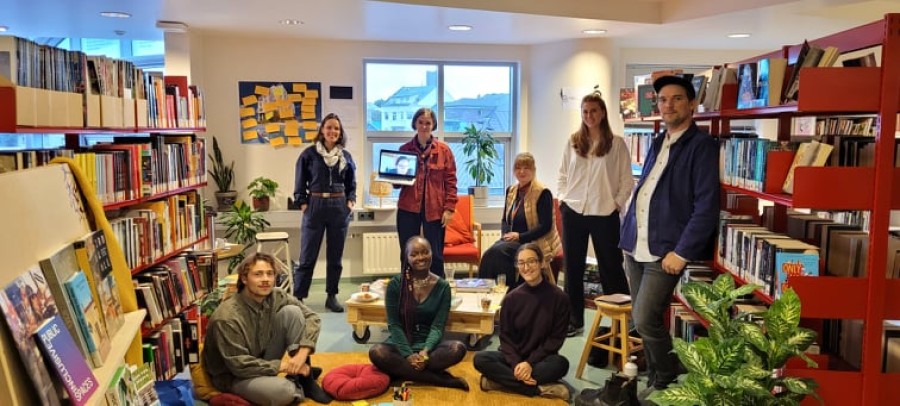 "Social spaces shape the way we interact."
Think tank on social spaces with creators of Stofan | A Public Living Room
31st of August 2021 in Grófin
People forge bonds in places that have healthy social infrastructure- not because they set out to build community, but because when people engage in sustained, recurent interaction, particularly while doing things they enjoy, relationship inevitably grow. (E. Klinenberg, Palaces for the People, 2018, p. 5)                                                                                               
Our main question for this think thank was to find out how can we design a setting of a public living room
– which is open, accessible and free to all.
The session began with a an introduction to the idea of social spaces given by the project manager Dögg Sigmarsdóttir. Guðrún Lilja Gunnlaugsdóttir, the head of the department of innovation and communication at the library, showed us the visible and more hidden places of the library and how designing of spaces affects users.
The second half of the session was devoted to collecting ideas on social spaces, including an input by Anna Wojtyńska, a researcher at the University of Iceland, with examples of her research findings on migration movements and inclusive societies. The participants shared examples of social spaces they use today and what feelings and experiences they connect with them.