Stofan - A Public Living Room
Stofan is an experimental project where the library invites different partners to create the social space they would like to see in the library.
Once a month a user opens a new space that reflects their needs, a space they feel comfortable in; a temporay public living room, with their own rules.
This is a place for citizenship in the making, where you can negotiate ideas of belonging, perform your identity, connect with others and communicate beyond language. In our conversations at Stofan we use all our senses to explore the surroundings, ideas and understandings.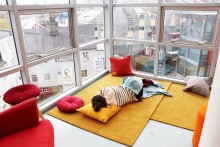 The project is supported by Bókasafnasjóður. 
Further information
Dögg Sigmarsdóttir
Project manager | Civic Participation 
dogg.sigmarsdottir@reykjavik.is
Martyna Karolina Daniel
Intercultural Specialist
martyna.karolina.daniel@reykjavik.is