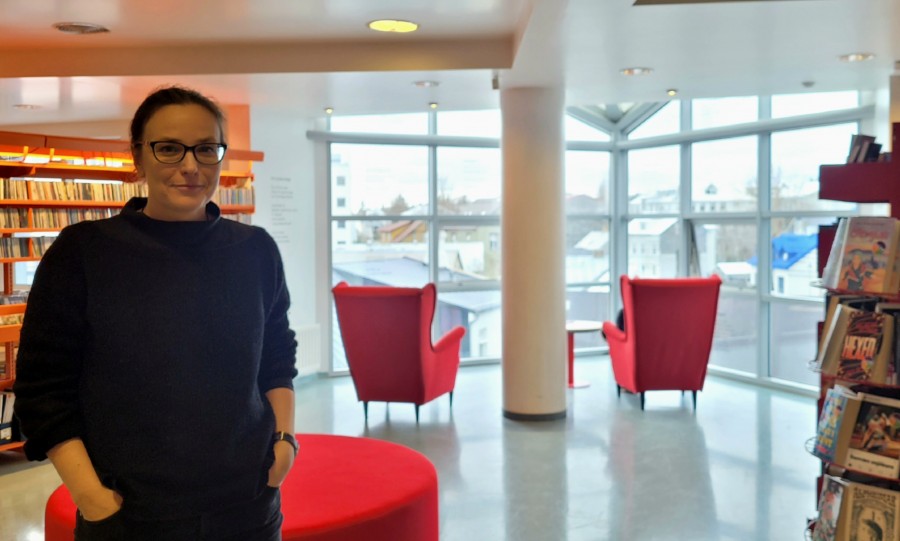 Anna W. creates Stofan in May
Anna Wojtyńska creates the May edition of Stofan at the library in Grófin. She will open her personal version of a social space with a conversation on 31st of May on the topic of creative participative methods to encourage inclusion. We got to ask her a few questions about her public living room.
Which spot did you choose for your Stofa and what will you place in it?
I have chosen a corner on the 5th floor of the library. It is a bit of a strange glassy construction sticking out into the town. Beside it resembles a sort of cozy sunroom where one could have a relaxing morning coffee, it also has for me a symbolic meaning of a public space. It is a spot in the library that is almost literally open towards or moving towards the city – sitting there one can feel being at the heart of Reykjavik, observing the city live. Not shelter away from the city by concrete walls.
What kind of feeling would you like to give users?
Since I would like to encourage people to reflect about social participation and inclusion, I would like to evoke this feeling of openness as a metaphor for entering a community.
Who would you like to invite to start a conversation with?
I would like to invite people who in their professional practice and/or academic enquiry encourage inclusion through participation. I have been studying migration to Iceland for some years and often been troubled with the commonly repeated phrase that language is a key to integration. Although it seems quite common-sense, much research actually shows that social participation is the key to language. Hence, I have been puzzled by a question, how can we facilitate participation beside the language, so it enables language acquisition. I would like to ask this question to my guests that have been using artistic workshops – music, movement, and visual arts – as means to connect people.
Do you have an inspiration, a place that you relate to your Stofan?
To be honest, not really. Previously I was thinking of arranging Stofan so it mirrors a local small town bakery, where random people meet for their morning coffee and start casual small conversations when eating breakfast. But eventually, I was more focused on the topic of my Stofan – inspired by a research project I am currently involved in – rather than a particular space.
Here is more about the experiment of Stofan | A Public Living Room
The opening conversation of Anna W. Stofan starts at 5 pm on 31st of May and is open to all to take part.
Further information
Dögg Sigmarsdóttir
Project manager | Civic Participation
dogg.sigmarsdottir@reykjavik.is