Kompan | Podcast Studio
Kompan is a small podcast studio on the 5th floor of Grófin Culture House. Click here to book the studio.
The space is lined/filled with shelves full of beautiful books, which improve the acoustics.
If you want to ask questions about the equipment or setup, or discuss Kompan in general, you can send us a line at hladvarp@borgarbokasafn.is.
Please note:
Guests must have a valid Reykjavik City library card.
Kompan opens at the same time as the library, but it closes an hour earlier.
Guests can reserve Kompan for up to four hours at a time, for a max of 8 hours per week.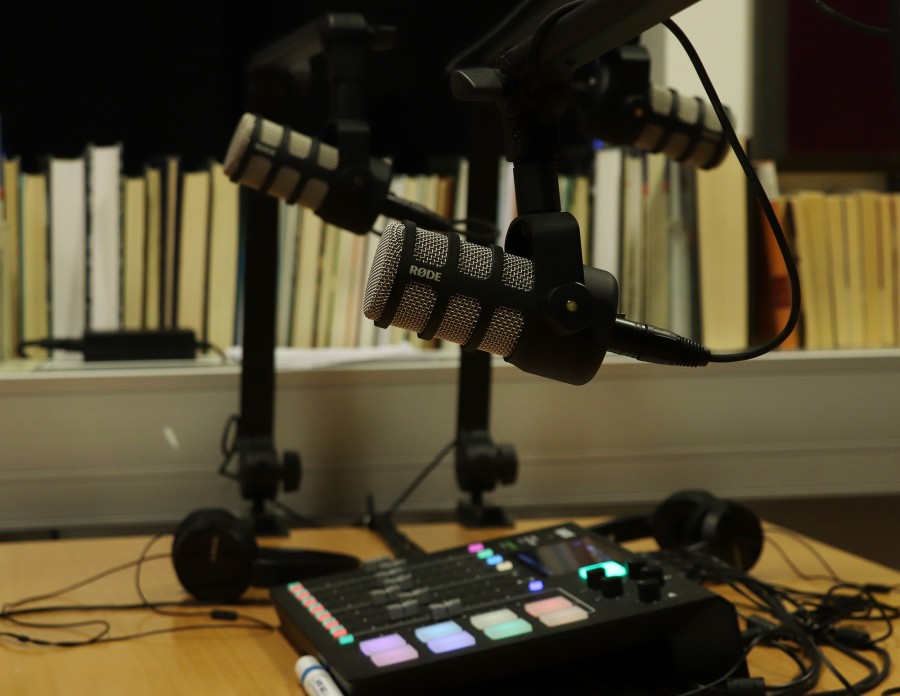 At Kompan it's possible to simultaneously record up to four channels, each with its own mic, and there is seating for five people. Four can listen to the recording and sound mixing at the same time. Guests have access to a computer with the editing programs Audacity and Reaper, and the instructional manuals are available in the room.
Equipment
The RØDECaster Pro recorder
Four RØDE Podcaster microphones
Four headphones
Pop-filter on each mic stand
The Reykjavik City Library's own podcast is produced at Kompan. The podcasts are released under the name Hlaðvarp Borgarbókasafnsins, and they can be accessed through all of the most popular podcast apps.
Are you planning on using the studio? Check out the video below to see how to get started with the equipment.