GERÐUBERG CALLING
Gerðuberg calling is an experimental project in the development of the library as an open space for all and explores methods of engagements with new users.
We invite creative individuals to work on their own project at the library in Gerðuberg through a call-out and then hire a selection committee to select the winning application. The winning applicants are offered a collaboration in the form of a paid residency where they work with staff and users on the new vision of the library as a community space. This project seeks creative collaborations to enrich the cultural program and get to know more diverse approaches that support the future vision of the library as a public space open for all.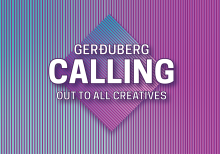 Over the past 3 years we have explored the themes of belonging, safe spaces and lately together, with creative collaborators who joined us for a residency in the library.
2021 | Lukas Bury | They have no pictures on the walls
2022 | Carolina Caspa and Hélène Onno | Tell Me
2023 | Camila Rápalo and Elisabeth Nienhuis | Every word was once a medicine
Gerðuberg calling is one type of co-creative project in the library and we also welcome other innovative and creative projects into the library outside of our call-outs. If you want to explores something new in the library, get in touch!
The project is supported by Bókasafnasjóður.
Further Information
Martyna Karolina Daniel
Intercultural Specialist
martyna.karolina.daniel@reykjavik.is
Related news
Related events