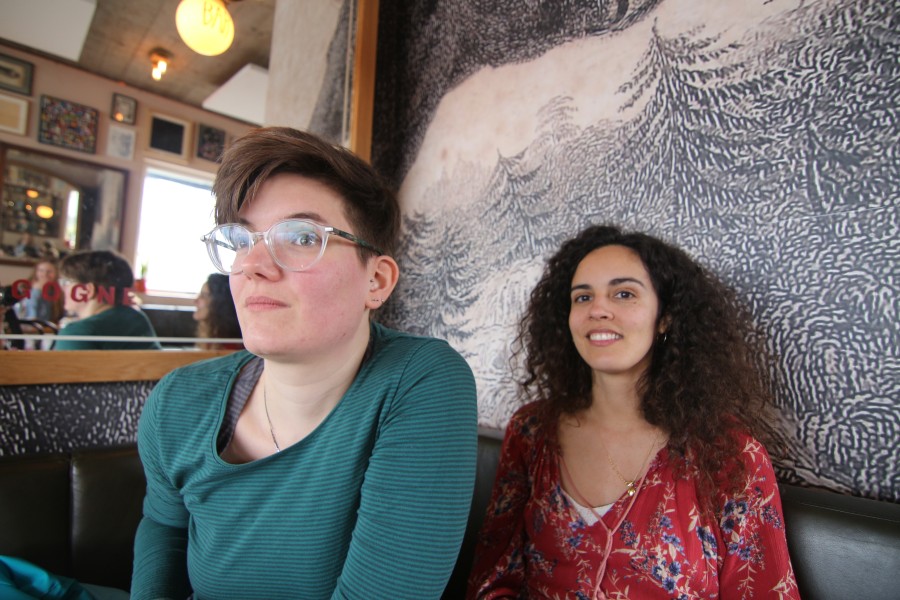 Tell Me | Carolina Caspa & Hélène Onno
Carolina Caspa and Hélène Onno joined the library in January 2022 as part of our first year of creative collaborations with the project Gerðuberg Calling! Carolina and Hélène will work on their project Tell Me. They are collecting stories that unite us in all our differences, in all possible languages.
Tell us about myths and folktales from your childhood, mysteries and stories from your hometown. Do you recall any family and community mythologies that make you feel at home, that make you feel like you belong? Stories that give you a sense of community and you want to share with other people!

We want to create a storytelling community, composed of artists, storytellers, and audiences from different ages and backgrounds who are open to telling compelling stories and tales from their home countries, their childhood or stories that carry meaning and importance to them in how they think about home and belonging. Using written and performance exercises, dialogues, and discussions we want to evoke experiences with belonging as a basis for revealing the patterns that connect us. We intend to collect diverse stories in different languages and find out what are the stories that compose Icelandic society today.
Carolina and Hélène talk about Tell Me by the printer in Gerðuberg on Wednesday the 16th of February.
They collect stories on two dates in Gerðuberg:
Tell Me | Collecting Stories - Friday February 18th 2022
Tell Me | Collecting Stories - Monday February 21st 2022
The story needs to be limited to 800 words or be no longer than a 4 minute recording. The open call ends on the 7th of March. 
Send us your story in a written form or as an audio-file: tellme.gerdubergcalling@gmail.com or clicking this link. Futher information on the call out is in 

this document.
If you are having difficulties starting, you can use our story completion prompt:
 "I once heard this tale that I will never forget…"
About Gerðuberg Calling
Gerðuberg calling is a project that seeks creative collaborations to enrich the cultural program and get to know more diverse approaches that support the future vision of the library as a public space open for all.
Further information on Gerðuberg calling:
Dögg Sigmarsdóttir
Project manager | Civic Participation
dogg.sigmarsdottir@reykjavik.is