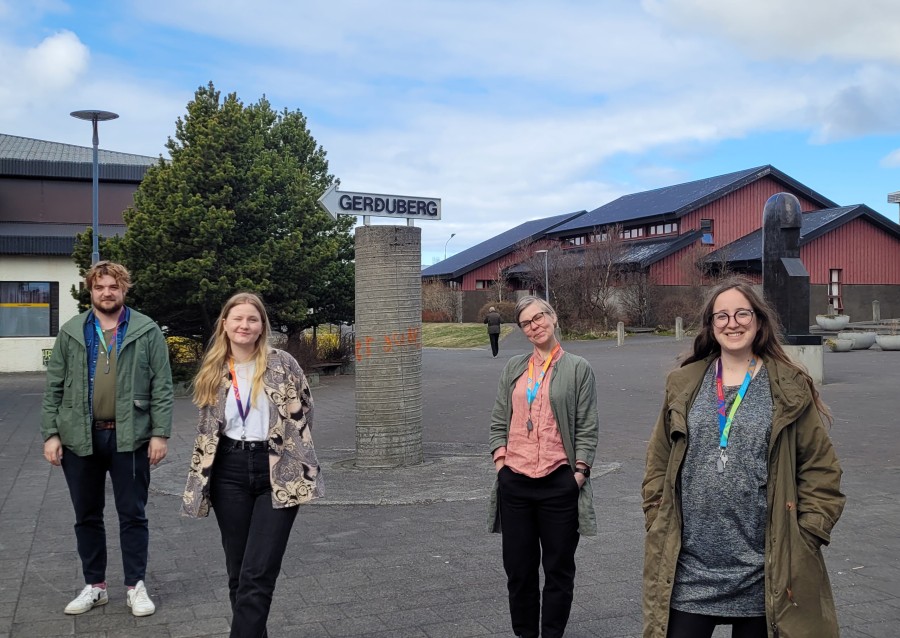 To Stay And To Change | Lukas Bury
Lukas Bury is the first visiting artist taking part in the project Gerðuberg calling. During the month of October Lukas will work on the artistic research project They have no pictures on the walls. It aims at an in-depth research of the Polish immigrant community in Iceland and is guided by ideas of home. We asked Lukas a few questions on his artistic practice, how he feels about libraries, safe spaces and what it is that make you feel you belong in a place.
Lukas, did you ever think you would work in a library?
No, but I wouldn't think that I will live in Iceland as well. A lot of good things that happened to me, were those I wouldn't expect. I am also a very curious person and am looking forward to that experience.
When you think of libraries, what is the first thing that comes to mind - a feeling, smell, atmosphere or a memory?
Silence, order, colourfulness – all in a positive way.
The library is working with the themes of belonging and safe spaces in Gerðuberg calling. Do you have a certain place, a public space, that gives you a feeling of belonging?
I honestly didn´t think much about it. Since my early childhood I was scared of crowdy and noisy places. In that sense Iceland came out to be a perfect choice for me. I realized now, that libraries meet my personal requirements for a safe space – they are most often silent, spacious, inclusive and can suit any taste.
Could you tell us about your project in Gerðuberg calling?
The project "They have no pictures on the walls" is an artistic research project, which aims to give a deeper insight into the Polish community in the Capital Area. In that project I work together with my partner Weronika Balcerak, who studies at LHI and received a scholarship from the Student Innovation Fund for the co-operation, Anna Wojtyńska, who holds a PhD in Anthropology and researches the Polish community in Iceland for many years, and Anna Marjankowska who will be an extra critical voice from outside. After condemning an online poll, we will invite ten people from the Polish community to an interview, to hear different answers to the questions I was and am asking myself since the beginning of that project. The outcome will be a printed catalogue, which we would like to launch at the library, and an exhibition at Gallery RYMD.
How does it relate to the themes of belonging and safe spaces?
From my perspective a home should be the safe space per se. But can it become a non-place? (like airports or hotel rooms very often are) Will an apartment or house become our home, if we define our stay since the beginning as temporary? How long go we have to stay and change within that space so it becomes ours? As I was moving many times during my adolescence and early adulthood, I never experienced that feeling of belonging, because I knew it's not going to last forever. But, I could feel the insecure leaking of that feeling, which I just overcame after moving to Iceland. Maybe it's because of being on an island, Iceland so far away from everything I knew before? I'm asking those questions as part of my artistic practice and during the upcoming exhibition at Gallery RYMD in October. Weronika Balcerak, who works with me on the project as part of her Student Innovation Fund Scholarship, asks the interviewees, who will give us ten possible answers.
You will be working in Gerðuberg for a month, how do you plan on using the library?
As the research and production of the artworks will be advanced, I would like to focus on the mediation of the experience and knowledge that we gained. I would like to organise various events like talks, guidings and presentations to activate the visitors within the library and to keep an ongoing discussion during the month I will be there.
How is this environment different from your usual work environment?
My studio is a teenage room, so I have the total freedom there and don't have to be afraid of having a mess or accidentaly get paint on the floor or walls. I listen to music through speakers and love that nostalgic feeling of the imagination of freedom from teenage years. Working in the library will be the opposite in that sense – I will have to be silent, keep an order and listen to music only through headphones. But that doesn't necessarily mean that it will be worse. In the studio I am alone, and in the library I will have the possibility to connect with people, having conversations and gain from that exchange.
If you were to leave something in the library that users can borrow, what would it be?
The catalogue "They have no pictures on the walls" which is part of the project and will be published in the library.
More information on Lukas Bury´s project in Gerðuberg calling can be found here.