How to make a reservation
You can search the library's catalogue using the search field at the top of this website: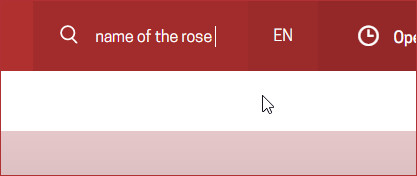 When you find something you would like to reserve, click its title to get more options:

On the next page, click "Reserve":

If you are logged in, you will skip this next step. If not, the login form will pop up, where you can log in using your kennitala and password or choose "Log in via island.is" and log in using either your web key or electronic identification.
Note that if you log in via island.is, when login is complete you will be redirected to the front page of our website, and will have to search for the chosen material again to complete the reservation.
In this example we will log in using our kennitala and password: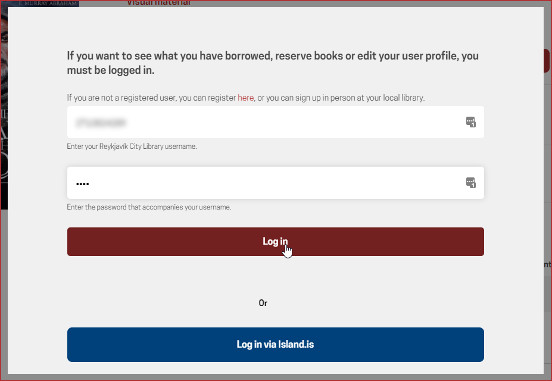 When you have logged in, you will need to choose your preferred pick-up location for this reservation: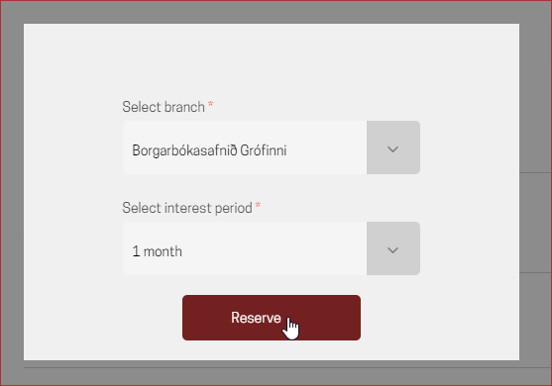 You should then get a message saying that the reservation was successful.
You can see your current reservations in "My Account". There are separate pages for "Reservations ready for pick-up" and "Reservations in queue":
Please note: due to technical issues related to the new library management system, "Reservations in queue" cannot be viewed on borgarbokasafn.is at the moment.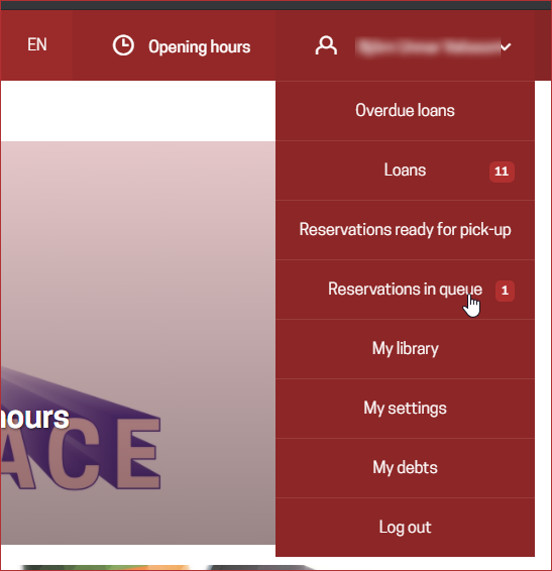 Choose either and you will see the material's name and pick-up location:
Reservations in queue can be deleted shortly after they are made, as soon as they have been processed by the library system.
If you no longer have need for a reservation that is ready for pick-up, please let us knonw by sending a message or calling 411 6100.
How long to wait
You will be notified by email when your reservation is ready for pick-up.
If the item is on shelf at your chosen pick-up location, you should receive a notification later that day or the next day.
If the item needs to sent over from one of the other city libraries, you may need to wait for a few days, as items are shipped between libraries twice a week.
And finally, if all copies of the item are on loan already, your name will be added to the waiting list. You will be notified when the item is returned and you are next in line.
Please note that in order to send your notification we need to have your email on file. You can check whether your current email is registered by going to "My Account" and clicking "My Settings".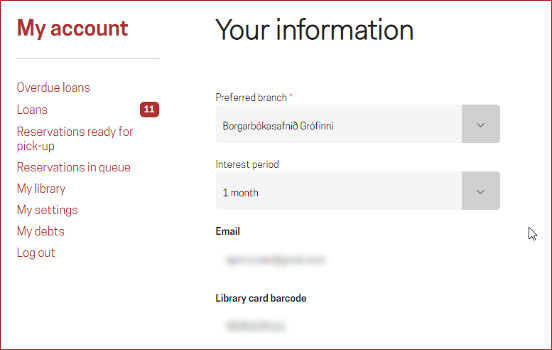 Here you can also see the number of your library card and set a new password or PIN (which is useful if you plan to use the e-library).
You can also choose the default pick-up location for your reservations, but you will always get the option to choose another one when making the actual reservation.
If the information is correct, you don't need to do anything. If no email or the wrong email address is registered, please let us know by sending a message or calling 411 6100.