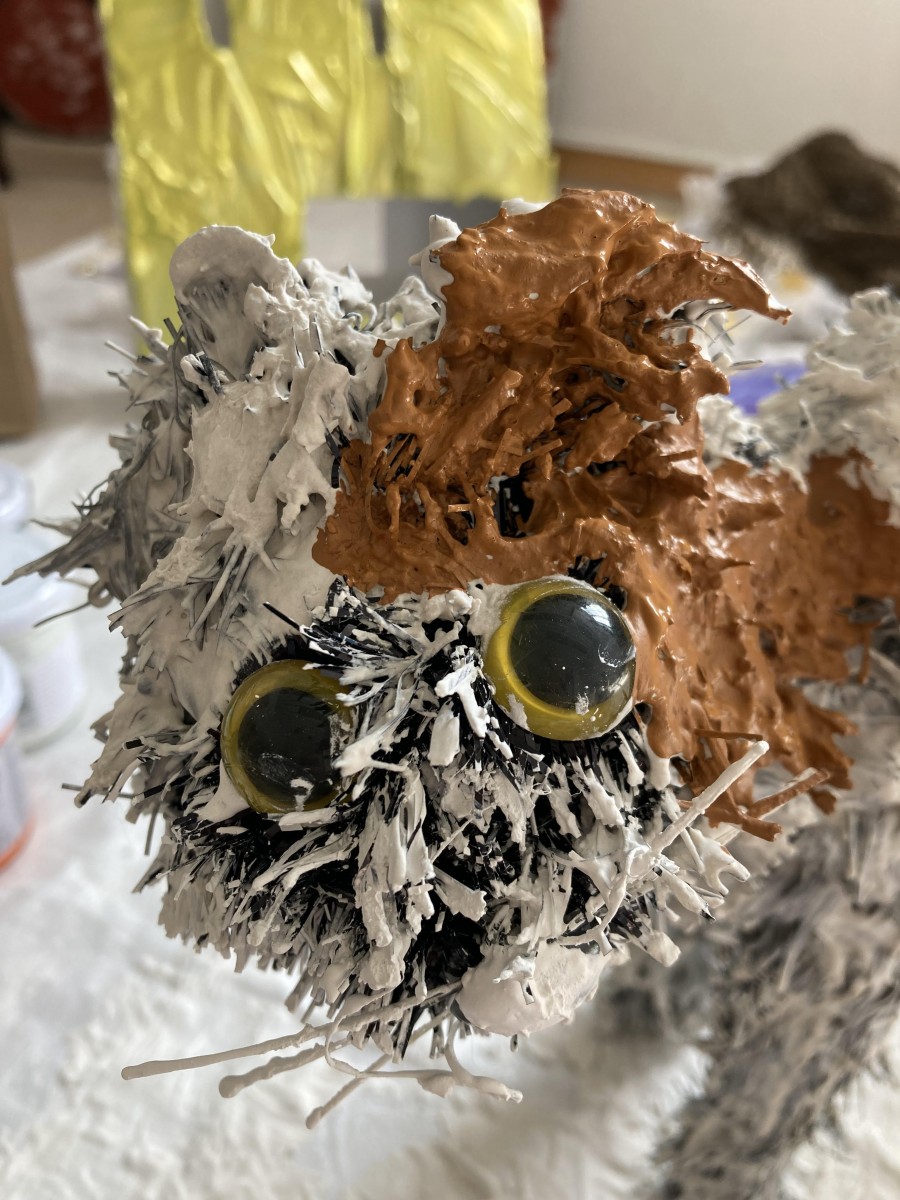 Information about the event
Exhibition | Fabrication
Saturday January 14th 2023
-
Saturday February 18th 2023
A stuffed tiger looks at another tiger on the TV screen. In the corner is a fake flower made from raw meat collages. Monochrome blue painting sits on the wall behind. Bright as the blue sky. A frog observes the situation, it has eyes that resemble the eyes of a snail. It's the end of the world as we know it.
Welcome to the opening of the exhibition on January 14th 

For the exhibition Fabrication, Valgerður Ýr Walderhaug shows works on
the border between painting and sculpture, using mass-produced and found objects
from her local environment, which she transforms with painterly methods. The result
is an installation in which multi-layered material experiments create a world that
refers to some kind of mixture of reality and the world of fantasy.
Valgerður's working methods revolve around mixing all kinds of materials from
different sources. All these materials come from a variety of places and are either
found by chance or bought on purpose. Often they are materials that are considered
insignificant in their everyday role, such as packaging and items from convenience
stores and supermarkets. The works are created in a chaotic process characterised
by experiments with materials and the interplay of colours. The outcome is never
decided at the beginning, so it is a journey in itself, weighing and evaluating
everything until the end.

Valgerður Ýr Walderhaug was born in 1991 in Reykjavík. She completed her B.A
degree (2017) from Iceland University of the Arts and an MFA degree from the
Academy of Art in Trondheim (2021). She has also studied at Glasgow School of Art
and Haute école des arts du Rhin in Strasbourg, France. In 2018, Valgerður received
a grant from the Guðmunda Andrésdóttir fund. Since her MFA graduation, Valgerður
has lived in Tromsø in Northern Norway and in Oslo. A year after graduation, she
received an artist working grant in Norway. Valgerður has participated in a number of
group exhibitions both in Iceland and abroad, and the exhibition Tilbúningur will be
her fifth solo exhibition.
The event on facebook

The exhibition is open according to the opening hours of the house.
For further information:
Svanhildur Halla Haraldsdóttir, specialist
svanhildur.halla.haraldsdottir@reykjavik.is | s. 411 6187