Welcome to the Library
Úlfarsárdalur Library is  the newest of the City Libraries. We offer a variety of books, board games and magazines. Besides that, users have access to computers, sound studio, workshop space and an assembly room. If you feel like something is missing from the library holdings, please let us know. 
The library is open during the swimming pool's opening hours, and then you are welcome to utilize the library, find a book, return a book or just relax and enjoy, as long at the lights are on. During service hours our staff is ready to help and give information.
On the one hand we have service hours, where the library's staff is present at the library and can help the users with what they need. On the other hand we have opening hours where the guests use self service machines and information screens, but the swimming pool's staff can be of assistance if needed. The library's opening hours are the same as the swimmin pool's, so the library opens early and closes late.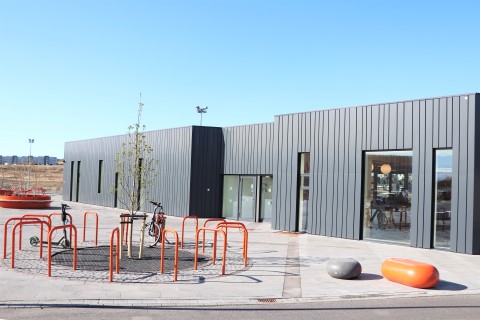 Location and transports
We are situated at Úlfarsbraut 122-124. Parking is available by the main entrance at Úlfarsbraut, from where there is good handicap access to the library. There's a lift inside the building.  Bus no 18 stops by Úlfarsbraut. Visit straeto.is for more information. 
Unnar Geir Unnarsson is director at Úlfasárdalur library, unnar.geir.unnarsson@reykjavik.is
Reykjavík City Library | Úlfarsárdalur Culture House 
Úlfarsbraut 122-124, 113 Reykjavík
ulfarsa@borgarbokasafn.is | s. 411 6270