Our Facilities and Space for Rent
At Spöngin guests can always sit down, drink coffee, flip through the papers, and have a nice chat with others. The library has a variety of places for guests to stay a while, whether they are there to work, play, or just relax with a good book.

Guests can relax in our sofas or take it easy in our hammock. There's plenty of space for children and families to enjoy spending time together at the library. Our family time get-togethers tend to be loud and lively, but it's also possible to find a nice, cosy spot to sit down and read together. 
Do you need to study in peace and quiet?
On the second floor you'll find two rooms for reading and group work, which can be reserved free of charge.
Inner room: size: 19 m2 | 10-15 people at a table. Floor area: 320 x 605 cm. Ceiling height: 330 cm. Wall mounted screen that can be connected to a computer. 
Outer room: size: 18 fm2 | 8-12 people at a table. Floor area: 313 x 605 cm. Ceiling height: 330 cm.
Please reserve a time by emailing spongin@borgarbokasafn.is or calling +354 411 6230.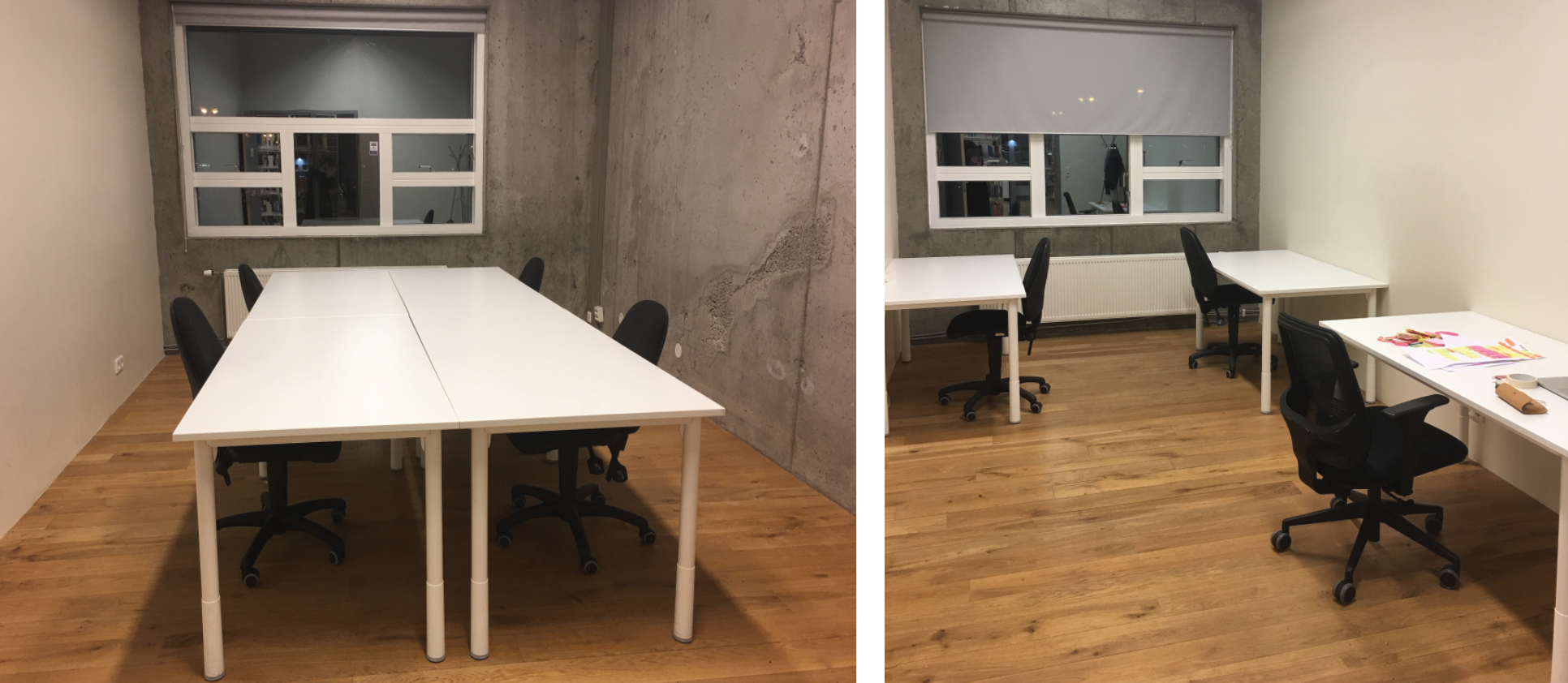 Photo: Reading and group work room – Guests can arrange the tables and chairs for group work, meetings, or studying quietly. 
Exhibitions and events at Spöngin
Artists can apply to exhibit their work or put on an event on the website. The Reykjavik City Library exhibition committee meets regularly to review and respond to applications. The exhibition committee reserves the right to define and shape library exhibitions based on the focus of the events calendar at any given time and accepts applicants accordingly. Library directors review and respond to applications for putting on events. 
Our Sjónarhóll exhibition space is on the first floor, but we can also put up smaller exhibitions on the second floor and elsewhere in the library. 
Sjónarhóll 
Size: ~43 m2 
Area: 720 x 600 cm. Ceiling height: 265 cm. A picture rail is used to hang the art. 

Book Sjónarhóll 
The room is ideal for classes, meetings, and smaller events. The room is also use for art exhibitions. 
Size: ~ 43 m2 | 10–20 people at a table—theatre-style seating for 40 people
Technology: Portable projector and computer, Wi-Fi, and a portable sound system.
Area: 720 x 600 cm. Ceiling height: 265cm
Weekdays, 1/2 day: 15,500 ISK
Weekdays, whole day: 21,000 ISK
Saturday: 24,000 ISK
Coffee per guest: 300 ISK
More info on the Reykjavík City Library facilities.
The photos were taken in June of 2019.
For more information, contact Katrín Guðmundsdóttir, the department manager at Spöngin:
katrin.gudmundsdottir@reykjavik.is