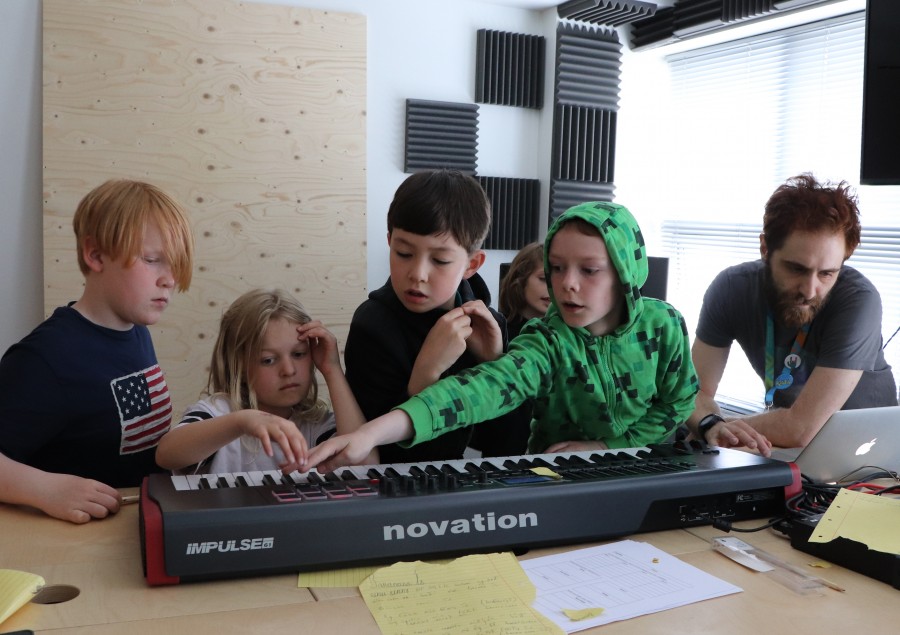 Music Makerspace at Grófin
The Grófin branch is pleased to offer a new Music Makerspace in fall 2020.  Music teachers and students ages 13 and older will be able to use the space learn, experiment and create using professional music production tools and software in a dedicated space downtown, seven days a week, free of charge. 
What is the Music Makerspace?
The Music Makerspace is a large, sunlit room on the fifth floor of Grófin, located behind the information desk.  The space features:
Who can use the room?
Starting in the fall, a weekly open house will be held where everyone 13 or older is welcome to book a seat or simply walk in to the Music Makerspace, free of charge. "Fiktdagar" or "hacking days" will be announced soon!
Outside of Fiktdagar, priority will be granted to users who have taken one of our music workshops or who have experience with music production software of some kind. Teachers interested in holding workshops at the Music Makerspace should contact the library after September 1, 2020 to reserve the room. 
Why a Music Makerspace?
Over the last several years we've consulted with professional musicians, teachers, and focus groups of young people interested in learning about and making music. These co-creators have given us lots of great advice and helped shape our plans for the Music Makerspace. We are excited to finally open the room this fall, and look forward to developing it along with our users!