Our Facilities and Space for Rent
We offer a cosy, multipurpose facility for library guests to study or work, alone or in groups. Guests are also welcome to sit at the cafe and read magazines, newspapers and books from the library. 
The Gerðuberg facilities for children and young people are both diverse and entertaining. The children's area is well equipped with a mixed collection of books, toys and cozy furniture and surroundings. The older kids can seek refuge both in the library, where they have access to books for 9-12 years old and also the Young Adults department in the OK, a cozy space to read, study or hang out with friends.
The Makerspace, in the room called Bakki, has good facilities for holding workshops, with access to a variety of tools that are also used in the libraries regular events. It is also possible to book the tools at specific times in the Makerspace through our booking system.
The computers are free to use for our guests, who are also welcome to get comfortable and read newspapers, magazines or other library material. Users are able to photocopy, print or scan documents for a small fee.
 

Do you need a place to study? You'll find all kinds of nooks and crannies between the shelves where you can study in peace and quiet or in groups. You can also study at the café located centrally in the building. 


Exhibitions and events at Gerðuberg
Artists can apply to exhibit their work or put on an event through our website. The Reykjavik City Library exhibition committee meets regularly to review and respond to applications. The committee reserves the right to define and shape the library exhibitions based on the focus of the events calendar at the time, and it accepts applications accordingly. 
Would you like to rent our space?
Gerðuberg has good facilities to host meetings, courses and conferences. Cocina Rodriguez Café offers good refreshments and is a great place to stop, both for those living in Breiðholt and the ones passing by. 
Lilja Rut Jónsdóttir, director of information services, manages bookings by phone, +354 411 6186, or via email, lilja.rut.jonsdottir@reykjavik.is.
Our office is open weekdays from 12pm-5pm.
Halls and meeting rooms
BERG
This room is ideal for conferences, courses, meetings, plays, concerts and various other events.
Size: 135 m2 | 80–100 people at tables – theatre-style seating for 120 people
Equipment: computer, projector, screen, Wi-Fi, sound and lighting system
Weekdays, 1/2 day: 27,700 ISK
Weekdays, whole day: 43,900 ISK
Evenings and Saturdays: 57,000 ISK

FELL
This room is ideal for exercise classes, dance, theatre, and workshops.
Size: 69 m2 | (room with mirrors) | 25 people
Mirrors along one wall, bluetooth speaker, mattresses
Weekdays, 1/2 day: 9,900 ISK
Weekdays, whole day: 15,600 ISK
Evenings and Saturdays: 15,600 ISK
 

HÓLAR
This room is ideal for courses and meetings.
Size: 20 m2 | 16 people at a long table
Equipment: Computer, projector, screen, Wi-Fi
Weekdays, 1/2 day: 19,600 ISK
Weekdays, whole day: 26,300 ISK
Evenings and Saturdays: 30,300 ISK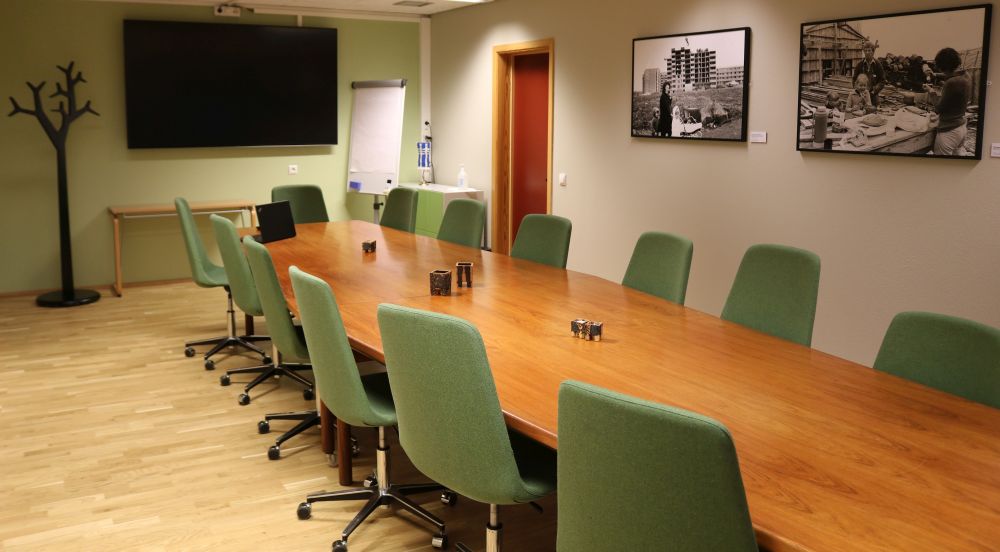 SKÓGAR
This room is ideal for meetings and group work.
Size: 19 m2 | 8 people at a round table
Equipment: Projector, screen, and Wi-Fi
Weekdays, 1/2 day: 9,800 ISK
Weekdays, whole day: 15,600 ISK
Evenings and Saturdays: 15,600 ISK
 

Refreshments
Refreshments are available at the Cocina Rodríguez Café, run by Evelyn Rodríguez, who also oversees catering for events held at the library.
For catering reservations and more information:
Email: cocinakaffi111@gmail.com
Tel.: +354 771 1479 / +354 411 6181
 

Here's a list of facilities at the Reykjavík City Culture Houses