Úlfarsárdalur Facilities and Space for Rent
We offer a bright and many-sided facility in a cozy space. The library is a great place to meet up for a chat, to study together or for smaller meetings. 
The youngest children, older kids and teenagers, as well as the grownups, all have their own spot in the library, but the space is open and we enjoy it together. It's cozy to sit in the sofas by the balcony window, look through the most recent books and newspapers and sip some good coffee. 
Miscellaneous events and education is offered for kids and grownups, be it in the Workshop, literary cafés in the library or bigger events in the assembly hall. 
Would you like to rent a hall, a meeting room or computer space? See info below.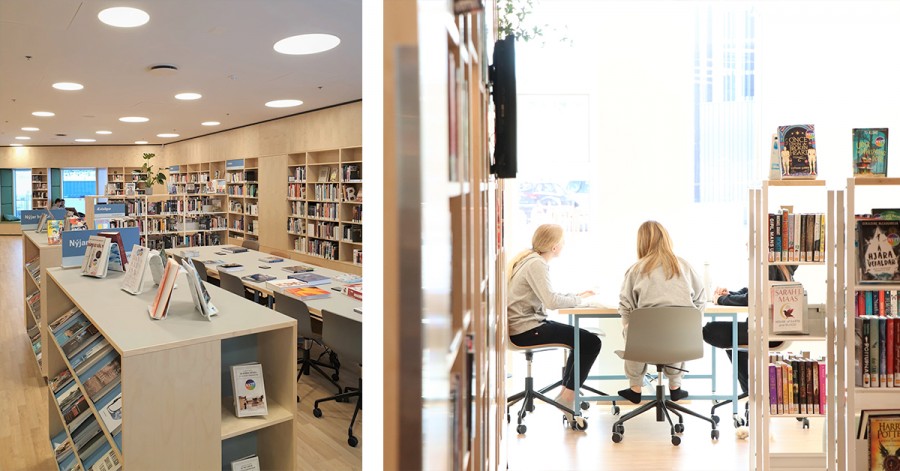 There's free access to computers in the Makerspace, where you can surf through news media, play computer games or edit photos and music. Users can photocopy, print or scan documents for a small fee. 
The Sound studio is well equipped and is suitable for bands and individuals who want to record for fun or serious business. 
Úlfarsárdalur Library is an open space for everyone, where you can seek knowledge and entertainment, meet up with friends or just come to hang out and relax.
Miðgarður – multi-purpose hall
The hall is a fitting space for conferences, seminars, meetings, theatre, concerts and more.
Size
200 m2
80-100 people seated at table
140-180 people seated in rows ("cinema"-style)
Backstage area for performers
Technical
Projector
Screen
Wireless internet
"Airserver"
Light- and soundsystem
Prices
Weekdays, 1/2 day: 30.000kr
Weekdays, full day: 48.000kr
Weekdays, evening (6-10pm): 45.000kr
Weekends, day/evening: 70.000kr
Soundsystem and installation: 10.000kr
Smiðjan
Perfect for seminars and meetings.
Size
33 m2
16 – 20 people seated at table
Fixtures and sink
Technical
70" screen
Wireless internet
"Airserver"
Prices
Weekdays, 1/2 day: 18.000kr
Weekdays, full day: 28.000kr
Weekdays, evenings (6-10pm): 25.000kr
Weekends, day/evening: 40.000kr
Makerspace
The room is fitting for seminars, technical and otherwise.
Size
26 m2
5 people seated
Gaming PCs / gaming chairs
Technical
Computers
Wireless internet
70" screen
"Airserver"
Prices
Weekdays, 1/2 day: 18.000kr
Weekdays, full day: 28.000kr
Weekdays, evenings (6-10pm): 25.000kr
Weekends, day/evening: 40.000kr