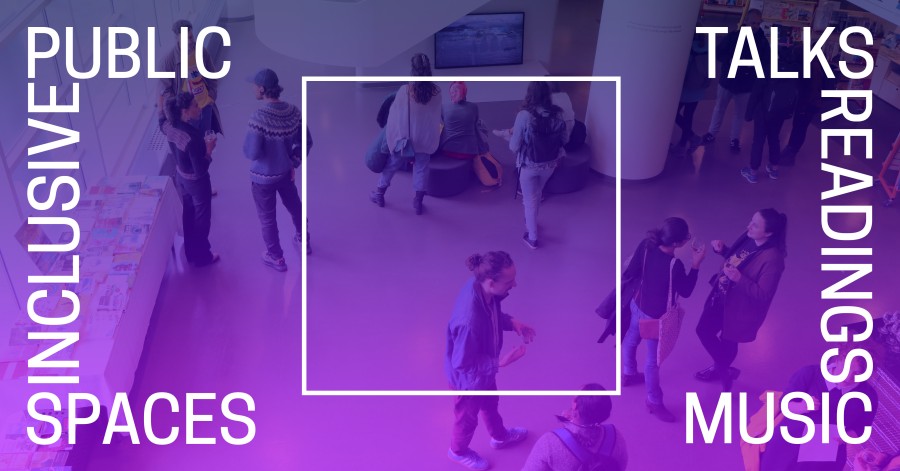 Information about the event
Publication Launch | Inclusive Public Spaces
Thursday September 3rd 2020
Due to current Covid-19 restrictions, a pre-booking is needed before attending events at the Reykjavik City Library. We ensure at all times to follow the latest rules regarding social distancing and gathering restrictions. Click here for further information.
Location of event: Bókatorgið in Grófin on 1st floor
Max participants: 30 - see registration form below
Light refreshment will be served.
The event will be streamed on our Facebook site. 
Can we feel, see, hear or taste inclusivity? Does it leave a bitter taste, a restless mind or a feeling of discomfort and confusion regarding your privileges? Or is it an urging feeling to open paths; an inspiration for new dimensions within existing structures? Who has the power to take up space? Who has a voice? Which narratives reach us and why?

We would like to invite you to the publication launch of Inclusive Public Spaces.
The publication is a collection of images and texts on the topics of;
Cultural narratives, structural racism and institutional power structure.
The contributors are Reykjavik based artists, writers and activists from diverse backgrounds, who generously invested their creative energy in exploring questions with the Reykjavik City Library relating to self-determination, representation and negotiations on belonging within the Icelandic cultural context:
Anna Wojtyńska, Chanel Björk Sturludóttir, Daría Sól Andrews, Elías Knörr, Ewa Marcinek, Helen Cova, Melanie Ubaldo, Nermine El Ansari and Wiola Ujazdowska

The program is as follows:
Performance by Ufuoma Overo-Tarimo
Music by Sandra and Mamandy Sano; and Elham Fakouri
Talk with artist, writers and activists in Inclusive Public Spaces

You can secure your copy of the publication Inclusive Public Spaces by reserving your place at the launch.
Free entry. Please register to the even below. 
The launch will take place in Bókatorgið. 
About Inclusive Public Spaces
The Reykjavík City Library has been actively exploring what inclusive public spaces are and could be alongside writers, poets, artists and activists. We engaged in a creative dialogue on belonging, visibility and inclusion during the last six months, which lead to an interesting array of podcast discussions and art happenings during the summer of 2020 and now a publication reflecting the process.
Have a closer look at the project here: borgarbokasafn.is/ips
Further information
On the creative process of Inclusive Public Spaces:
Ewa Marcinek, ewamarcinek@gmail.com, 615 1222
On the project:
Dögg Sigmarsdóttir, dogg.sigmarsdottir@reykjavik.is, 854 2309
Hubert Gromny, Hubert.Gromny@reykjavik.is, 761 9761