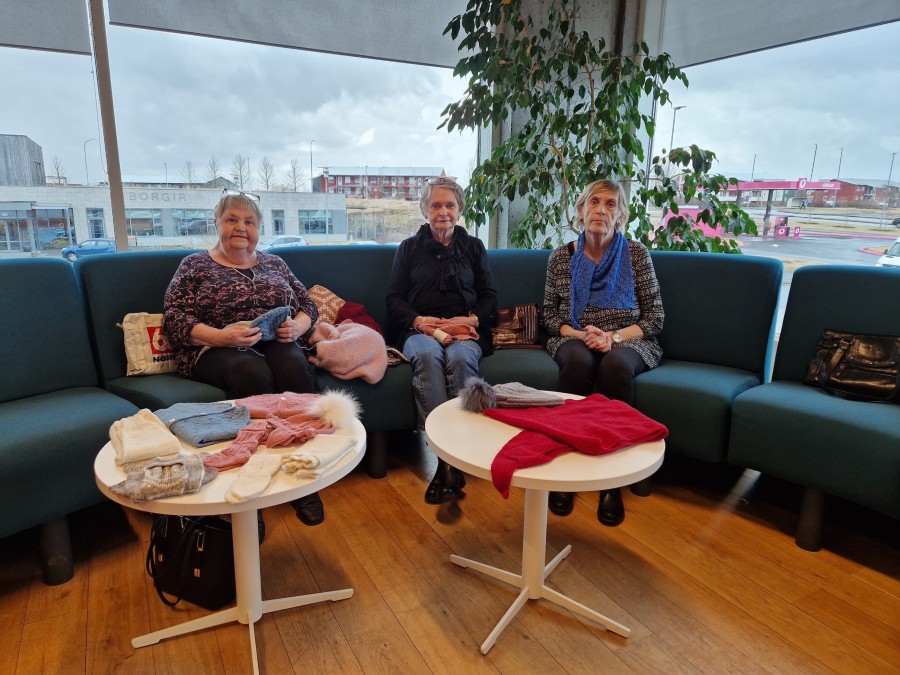 "It's an essential part of the week and I never miss out"
says Anna Guðrún Jónsdóttir who is, together with her friends  Sjöfn Þorvarðardóttir and Bjarney Njálsdóttir, a regular at handicraft times at the Reykjavík City Library Spöngin (Grafarvogur neighbourhood) on Thursdays.  It takes place on the green couch on second floor where everyone interested is welcome to join with their knitting, crochet, stitching or other handicraft projects. 
The sessions are not thought of as lessons, but you can always ask for an advice, two former handicraft teachers are among other very experienced regulars.
"We are good at assisting each other, both if we need some help with our work and we also exchange ideas for projects, color combinations and types of yarn."
says Bjarney and adds that even though they have all done handicraft for years, they are still learning and it's great to be able to ask questions in the group. Anna Guðrún agrees with that, saying that they are all very equal.
Men encouraged to attend
Between 8 - 10 people attend the sessions every week but there is always room for more. There is a group of regulars that come every Thursday but every now and then new people come who are very welcome.  Sjöfn says everyone is welcome, beginners and more advanced, and that the age group of those attending is very broad, the three friends have retired, but young mothers also come with their small children. Up till now almost only women have come to the sessions but men are encouraged to attend:
"There was one man who came the other day, he was very talented, he was from Hungary and spoke very good Icelandic. I think men are really doing handicraft, at least to a greater extent than before, they are just shy to show it."
Everyone is welcome to the handicraft sessions, also those who don't speak Icelandic, as there is usually someone in the group who speaks English.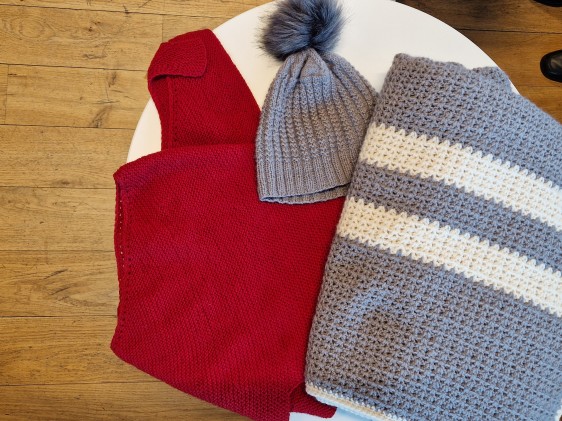 Socks with no heels
Anna Guðrún, Bjarney and Sjöfn all learned handicrafting from their mothers and grandmothers at a young age. At home they listen to audio books or watch the tv while making baby clothes for the grand children, table cloths for Christmas presents or cozy blankets for themselves. At the handicraft time at the Library guests chat about everything and nothing, suchs as books, the news and of course handycraft recipes. Sjöfn and Bjarney often work on several projects at the same time but Anna Guðrún preferes to finish one before starting a new one. Although she likes being a head of herself and come up with ideas of projects in advance. Sometimes even her children and grand children have a wish of something she can have as the next project. Recently she finished so called ,,train socks,, which have a beautiful story: 
"There was a Finnish lady on a train during the Second World War. Across from her sat a young woman with a small child who did not have any socks on. The lady took her own scarf, unraveled it and used the yarn to make socks for the child." 
Bjarney is also making some socks:  
"My grand daughters really like high socks, so called twist socks, which I suits me very well because they have no heels to make, I really don't like knitting heels. Ragnheiður, a former staff member of the Library,  thought me how to make twist socks. She's the one who started the handycraft sessions here in Spöngin."
Always so peaceful and quiet at the Library 
Anna Guðrún, Bjarney and Sjöfn all agree on that the Library is a very good place for handycraft sessions. 
"It's always quiet and private here, says Sjöfn, and the staff is so lovely, shows us craft books and magazines to get ideas, brings us coffee every time and somtimes even some sweets with it." 
"Yes and sometimes we bring our own sweets with us." Bjarney adds. 
"It's such a nice change, so much more fun than to sit alone at home and do some handycrafts."
says Anna Guðrún and Sjöfn and Bjarney agree with that.  
The Library has a large collection of books and magazines about handycrafts, which visitors are welcome to look at on site, and which cardholders can borrow to take home. Below you can see a small fraction of what can be found on the museum's shelves.
There are handycraft sessions at two different Libraries, in Spöngin (Grafarvogur neighbourhood) and Úlfarsárdalur. All are free of participation and no registration, just show up. 
Those who need a place for a handycraft club or other get-togethers are advised to contact the reception desk at their museum or send an inquiry to borgarbokasafn@borgarbokasafn.is
NOTICE: The handicraft time in Spöngin has now taken the time off for the summer but everyone is welcome to join from Thursday September 7th 2023.