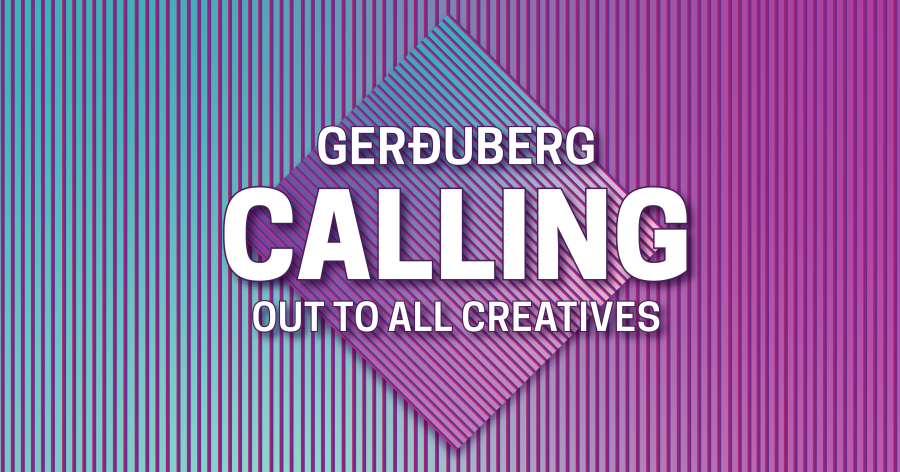 Information about the event
Gerðuberg calling out to all creatives
Monday February 1st 2021
-
Monday March 15th 2021
The Reykjavík City Library invites an artist to Gerðuberg Culture House to work on a personal project that relates to the themes of belonging and safe spaces.
The library seeks creative collaborations to enrich its cultural program and gain new insights that support the library's future vision of a public place. This is an experimental project where we develop the library as a social space and a participative venue.
COOPERATION
Gerðuberg offers a workspace to two visiting artists for research and work. This project is a part of the library's work environment and the artist's regular presence in Gerðuberg is expected.
The cooperation includes a workshop with the library staff, where the artist introduces their work process. During the cooperation the artist contributes to digital platforms of the library. By the end of the work period the artist will have decided on a suitable venue and time to present the outcome.
COMPENSATION
The library remunerates the selected artist with 200.000 kr. Additional compensation will be provided for each of the following contributions:
• A workshop with the library staff
• A contribution to one of the multiple digital platforms of the library
• A presentation of the outcome
The library covers material costs for up to 50.000 kr.
The artist is free to seek additional funding.
TIME FRAME
Two separate positions are on offer, each inviting one artist to the workspace for four weeks:
• 1st-31st of October 2021
• 3rd-31st of January 2022
APPLICATION
Applicants are asked to hand in an application with the following information:
• A project description and how it relates to the themes of belonging and safe spaces
• Examples of previous work, if applicable
• Other information, if needed
Applications should be sent via email to Martyna Daniel, Martyna.Karolina.Daniel@reykjavik.is, by the 15th of March 2021.
Please mention your preferred time frame.
EVALUATION CRITERIA
A selection committee evaluates the applications based on the following criteria:
• Aims of the project and if they are likely to be reached
• Added value to the library as a social space and participative venue
THINK OF A PLACE...
where all are welcome and entrance is free. A place where you can come exactly as you are and seek refuge from the hustle and bustle of daily life. When you talk to people you would not otherwise meet, ideas are born and you discover something new. In this place, you are more than welcome to share with others your ideas, experience and skills. When you leave, you have the feeling that you belong to something bigger, that you know and understand a little bit more than before. You carry with you an experience of a space that reflects the society we live in.The library can be this place, a social space and a participative platform where we share stories, culture and experience.
FURTHER INFORMATION
Martyna Daniel, Intercultural Specialist at the Reykjavik City Library
Martyna.Karolina.Daniel@reykjavik.is