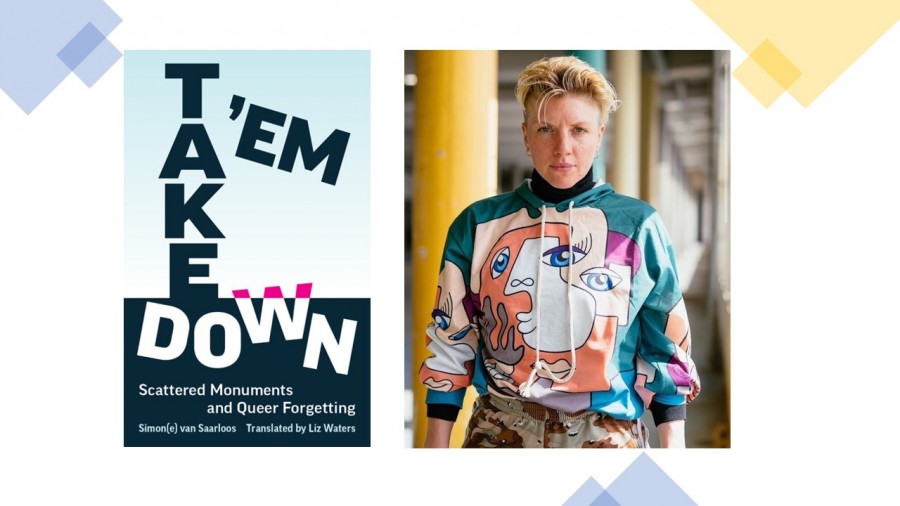 Information about the event
Literature
Talks & discussions
Book Launch | How is it possible to live without a past?
Who determines what is remembered and commemorated, and why? In Take 'Em Down Simon(e) van Saarloos is inspired by the historically invisibilized lives of LGBT people and queers. They demonstrate the power of forgetting and wonder if and how it's possible to live without a past. At the same time, Van Saarloos criticizes the way that a 'white memory' – including their own – treats some stories as self-evident while other histories are erased. Take 'Em Down questions the normative architectures of commemoration.  
The book launch consists of a conversation with Simon(e) van Saarloos and Elí Hörpu- og Önundarbur, a talk by anthropologist Inga Dóra Björnsdóttir titled: Monuments: Symbols of innocent pride or of power and domination? and a screening from a video in the making titled Historical spiritual vibration - a space traveling program, a utopian healing contribution springing from memories beyond our time zone from the artist collective Herring, Iron Gunpowder, Humans & Sugar. 
All welcome 
No entrance fees 
Further information  
Dögg Sigmarsdóttir 
Project manager | Civic Participation 
dogg.sigmarsdottir@reykjavik.is