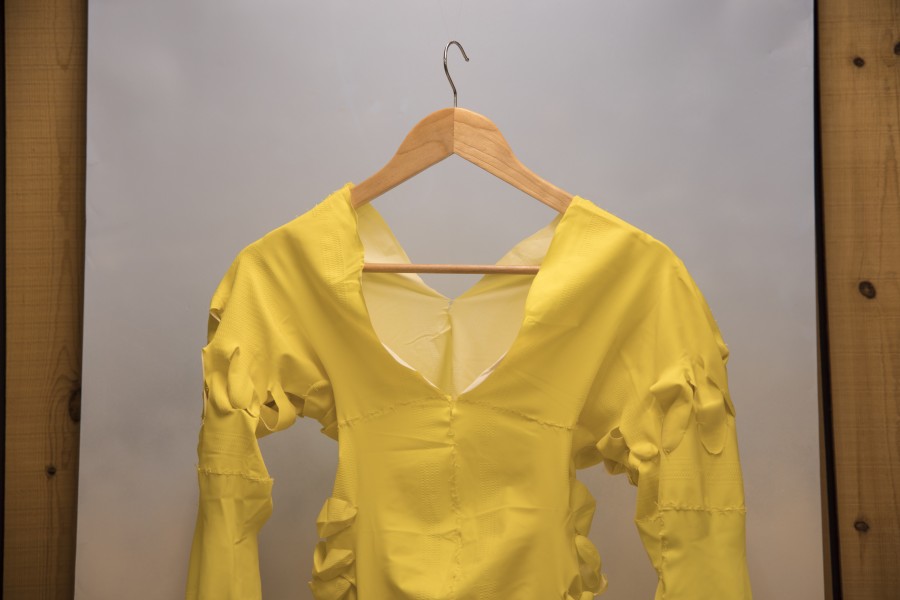 Vestur í bláinn | Exhibition
The exhibition Vestur í bláinn, curated by Claire Paugam & Julius Pollux Rothlaender is visible around town throughout September and we are happy to have one of the locations being the Reykjavik City Library Gerðuberg. 
We will host an artist talk around this exhibition in the City Library downtown Grófin Thursday September 17th at 17:00. More information here.
About the project
Vestur í bláinn is a multidisciplinary music and art project on immigration in Iceland, presenting a poetic and sensitive approach to notions of foreignness. It aims to be a space for voices, different languages and stories of people from diverse origins, that are rarely heard in the context of arts or the public in general.
An artist talk in Gerðuberg
Ewa Marcinek and Claire Paugam gave a talk in Gerðuberg last Sunday where they presented the piece Second Skin: a costume made out of rubber gloves by Ewa Marcinek especially for this exhibition.
"A whole body suit made from yellow rubber gloves stitched together using medical suture protects your delicate human composition from any harsh, harmful or simply unpleasant reality in a new country. Inspired by Wiola Ujazdowska's explorations of the universe of female migrant workers in Iceland."
More about the project
Julius Pollux started 'Vestur í bláinn' as an experimental music project, which combines voices of immigrants and refugees in Iceland with his own musical take on the subject.
Claire Paugam and Julius Pollux then teamed up to expand the project into an art exhibition and elevate political concerns within a poetic perspective, encouraging a humanistic and empathetic look on people's stories, situations, emotions and backgrounds.

Local artists were invited to engage in a dialogue with the music pieces by creating the ten artworks that are presented in this exhibition.
The exhibition takes place in ten public locations in Reykjavík from September 3rd to September 30th.
More information about all locations and art pieces can be found on this website.