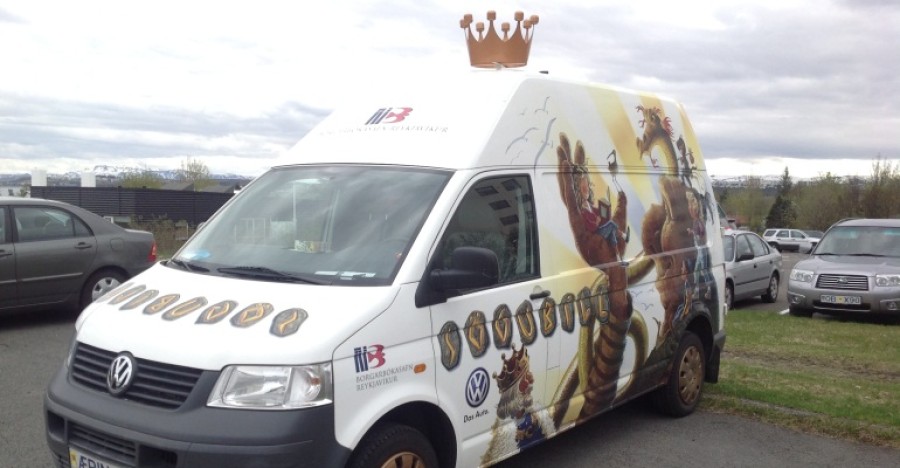 Jester, the Storymobile
The story mobile Æringi ("Jester") is the bookmobile Chief's younger brother. Behind the wheel is Ólöf Sverrisdóttir, who takes on various roles and tells the children stories and fairy tales. Sóla sögukona, Björk bókvera, Æra Æringjadóttir and Nína Norn have all taken the car to preschools and beyond, bringing joy to the children through stories and songs. Ólöf also sometimes receives guests and works on story creation projects with preschool and grade school children. The car features fun illustrations by Brian Pilkington. The car is not only full of adventure on the outside, but also on the inside, with a dark, velvety tent and stars that create an enjoyable and exciting environment for story time. 
It's possible to book a visit from the story mobile at preschools and youth centres in the city. It's also possible to book the car for neighbourhood festivals or other events in the city.
All bookings are free of charge.
For more information, contact Ólöf Sverrisdóttir, the Æringi project manager
olof.sverrisdottir@reykjavik.is
Phone: 411-6189
Cellphone : 664-7718
 
Book the Storymobile
10-13 children can sit in the storymobile at one time, and each group will visit for 30 minutes. Max 26 children per booking.
For larger groups, split them up and book more than one visit.