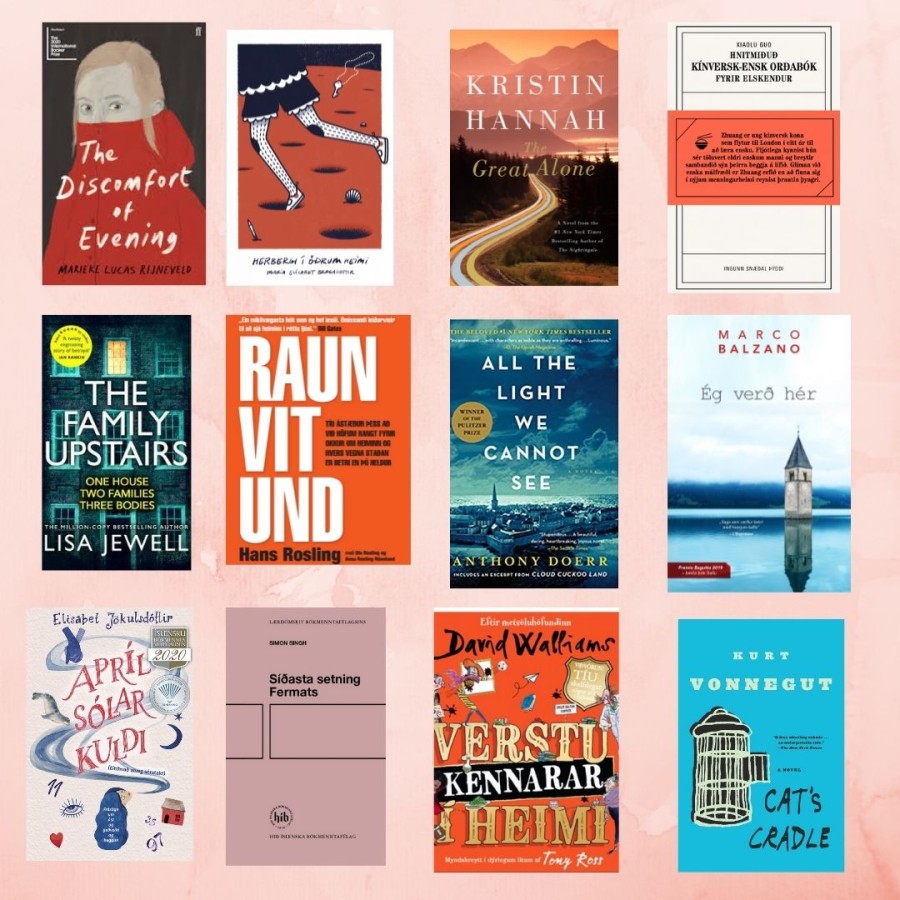 Staff Picks: Books we're reading
What should I read next? This is a question we often get at the library. Here's a list of some of the books the library staff has enjoyed recently. 
The Discomfort of Evening
by Marieke Lucas Rijneveld
The Discomfort of Evening is the first book by the dutch author Marieke Lucas Rijneveld and got the international Booker prize in 2020. The book tells about the young Jas who lives in the countryside in the Netherlands with her Christian family. One day her brother disappears, after Jas has prayed to God for his death, and leaves the family devastated. Jas and her family sink into deep sorrow, that gets ever eerier. 
We have the book in our E-library. 
The Great Alone 
by Kristin Hannah 
Set in Alaska, USA, in 1974. Ernt Allbright, a former POW, comes home from the Vietnam war a changed and volatile man. When he loses yet another job, he makes an impulsive decision: he will move his family north, to Alaska, where they will live off the grid in America's last true frontier.  In this unforgettable portrait of human frailty and resilience, Kristin Hannah reveals the indomitable character of the modern American pioneer and the spirit of a vanishing Alaska―a place of incomparable beauty and danger.
The Great Alone is a daring, beautiful, stay-up-all-night story about love and loss, the fight for survival, and the wildness that lives in both man and nature. By the author of The Nightingale.
A Concise Chinese-English Dictionary for Lovers
by Xiaolu Guo
From one of our most important contemporary Chinese authors: a novel of language and love that tells one young Chinese woman's story of her journey to the West—and her attempts to understand the language, and the man, she adores. Zhuang—or "Z," to tongue-tied foreigners—has come to London to study English, but finds herself adrift, trapped in a cycle of cultural gaffes and grammatical mishaps. Then she meets an Englishman who changes everything, leading her into a world of self-discovery. 
The Family Upstairs
by Lisa Jewell
Soon after her twenty-fifth birthday, Libby Jones returns home from work to find the letter she's been waiting for her entire life. She rips it open with one driving thought: I am finally going to know who I am. She soon learns not only the identity of her birth parents, but also that she is the sole inheritor of their abandoned mansion on the banks of the Thames in London's fashionable Chelsea neighborhood, worth millions. Everything in Libby's life is about to change. But what she can't possibly know is that others have been waiting for this day as well—and she is on a collision course to meet them.
Factfulness
by Hans Rosling 
Factfulness: Ten Reasons We're Wrong About the World—And Why Things Are Better Than You Think explores the misconceptions that color our view of the world. Whether it's global poverty, epidemics, war, or terrorism, we tend to have a dramatic, negative view of the world: that things are worse than they've ever been and they're getting worse all the time. But according to Factfulness, this view is wrong. By almost any measure, there's never been a better time to be alive than right now. The book walks us through ten instincts that distort how we understand global problems, and offers solutions for overcoming these instincts—turning our dramatic worldview into a factful one.
All the Light We Cannot See
by Anthony Duerr 
Marie-Laure lives in Paris near the Museum of Natural History, where her father works. When she is twelve, the Nazis occupy Paris and father and daughter flee to the walled citadel of Saint-Malo, where Marie-Laure's reclusive great uncle lives in a tall house by the sea. With them they carry what might be the museum's most valuable and dangerous jewel.
From the highly acclaimed, multiple award-winning Anthony Doerr, the stunningly beautiful instant New York Times bestseller about a blind French girl and a German boy whose paths collide in occupied France as both try to survive the devastation of World War II.
Fermat's last theorem
by Simon Singh
'I have a truly marvellous demonstration of this proposition which this margin is too narrow to contain.' It was with these words, written in the 1630s, that Pierre de Fermat intrigued and infuriated the mathematics community. For over 350 years, proving Fermat's Last Theorem was the most notorious unsolved mathematical problem, a puzzle whose basics most children could grasp but whose solution eluded the greatest minds in the world. In 1993, after years of secret toil, Englishman Andrew Wiles announced to an astounded audience that he had cracked Fermat's Last Theorem. He had no idea of the nightmare that lay ahead.
In 'Fermat's Last Theorem' Simon Singh has crafted a remarkable tale of intellectual endeavour spanning three centuries, and a moving testament to the obsession, sacrifice and extraordinary determination of Andrew Wiles: one man against all the odds.
The World's Worst Children
by David Walliams
Ten cautionary tales and a delightfully dreadful cast of characters. Are you ready to meet the World's Worst Children? Five beastly boys and five gruesome girls! Like Sofia Sofa - a TV super-fan so stuck to the sofa that she's turning into one! Or Dribbling Drew - a boy whose drool gets him into trouble on a school trip! And not forgetting Blubbering Bertha - a girl who bawls and tells terrible tales! Also featuring a special appearance from fan-favourite Raj! From Number One bestselling author David Walliams comes this collection of wickedly funny, deliciously mischievous tales, illustrated in glorious colour by the artistic genius Tony Ross.
Cat's Cradle
by Kurt Vonnegut 
Cat's Cradle is a satirical postmodern novel, with science fiction elements, by American writer Kurt Vonnegut. Vonnegut's fourth novel, it was first published in 1963, exploring and satirizing issues of science, technology, the purpose of religion, and the arms race, often through the use of black humor.