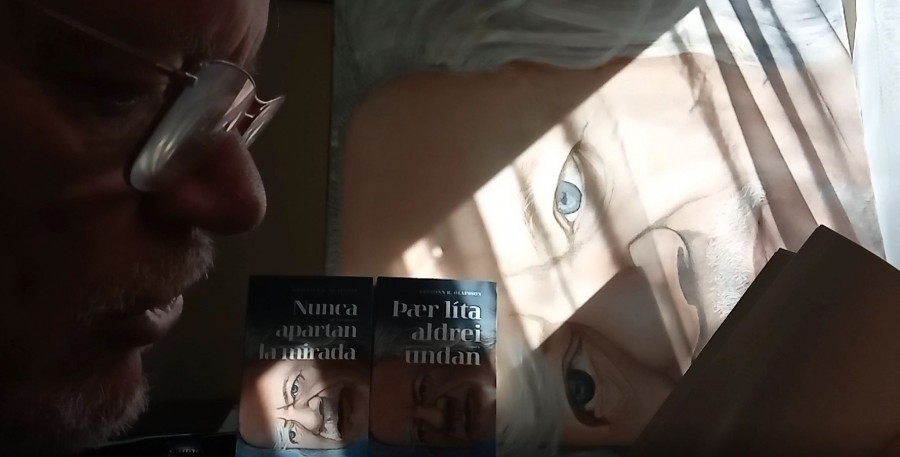 Information about the event
Literature
Learning
Language
Reading Circle in Spanish: They never look away | Círculo de lectura: Nunca apartan la mirada
Wednesday November 16th 2022
Kristinn R. Ólafsson, writer, translator, tour guide and former RÚV correspondent in Madrid for many years, will visit us and present his new book: They never look away / Þær líta aldrei undan / Nunca apartan la mirada. It is a bilingual book in Icelandic and Spanish with short narratives with everything from crime stories to tragicomedy and humorist narratives, that go into mystery and even the mystical ...
Everyone is welcome to attend but please note that in the event will be in Spanish. The library will offer coffee and tea during the event.
Kristinn R. Ólafsson, escritor, traductor, guía turístico y excorresponsal de Radio Nacional de Islandia en Madrid durante muchos años nos visitará y presentará su nuevo libro: Nunca apartan la mirada / Þær líta aldrei undan. Es un libro de relatos breves y es bilingüe, en islandés y español, que tratan de temas que van desde el género negro hasta lo tragicómico y humorístico, pasando por lo misterioso, si no místico...
Todxs están bienvenidxs a participar, pero el evento será en español. La biblioteca ofrercerá café y té durante la charla.
Kristinn R. Ólafsson, rithöfundur, þýðandi, leiðsögumaður og fv. fréttaritari RÚV í Madríd til margra ára, heimsækir okkar að þessu sinni og kynnir nýjustu bókina sína: Þær líta aldrei undan / Nunca apartan la mirada. Þetta er tvímála bók með stuttum frásögnum á íslensku og spænsku sem fjalla um allt frá glæpasögum að tragíkómedíu og gamansögnum og fer yfir í það dularfulla og jafnvel það mistíska ...
Öll velkomin en takið eftir að viðburðurinn fer fram á spænsku. Bókasafnið býður upp á kaffi og te á meðan viðburðinum stendur.
Viðburður á Facebook - Evento en Facebook - Facebook event
Nánari upplýsingar/Más información/Further information:
Vignir Árnason, bókavörður, bibliotecario, librarian