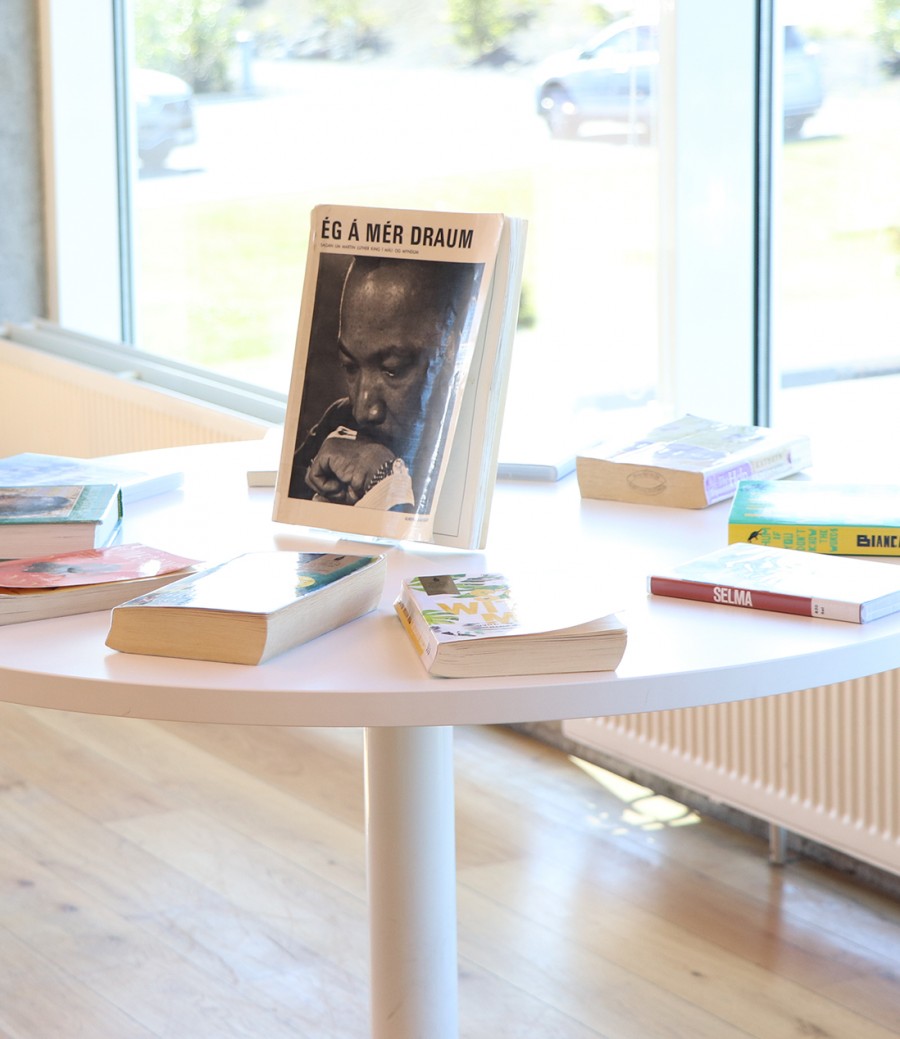 We are open | We recommend using the website to reserve material
10th - 26th of May 2021 
The general limit on the size of gatherings is now  50 people or 75% of permitted gathering in all the libraries and everyone is kindly asked to registrate when they enter the buildings, applying to all individuals born in or before 2014. 
Face-masks are required and the 2-m distancing rule is followed. Children born in or after 2005 do not need to wear masks, but are included in the total count and must observe the 2-m social distancing rule. 
Our opening hours - See here.
Please note that all the libraries will be closed on the Labour Day on May 1st.
The Bookmobile drives according schedule.
We kindly remind our users that it is always a good option to reserve material in advance and then pick up at a chosen library.
How do I reserve and pick up material?
It's simple! You find the book you want to read, the music you want to listen to, the magazines, sheet music or movie of your choice and make a reservation online. See further instructions. We encourage users to use the website to make reservations, but you're welcome to call 411 6100 if you need help.
If the material is available, we will contact you by e-mail or telephone when it's ready for delivery.
If the material is available, but not at the library of your choice, we will deliver it there and inform you when it's ready to be picked up.
If the material is not available, we will put you on a waiting list and let you know as soon as it's available and ready at the library of your choice.
Can I return material and pay debts? 
If you want to pay old debts you can do so on the library webpage. You simply sign in with your kennitala or library card number, or through island.is. Then you press your name at the top of the page, and in the list that appears you will find My debts, where you can pay your debts.
Can I use the E-Library?
If you have a valid library card you can sign into rafbokasafnid.is with your library card number and PIN number. 
If you don't know your library card number you can find it by signing in here, at borgarbokasafnid.is, open My account and Mínar stillingar. There you can see Library card barcode. 
If you don't remember your PIN you can make a new one. You start by signing in at the web by choosing "Sign in with island.is", enter My account and Mínar stillingar, and there you can change your PIN easily, without knowing your old PIN. 
And if you don't have a library card or need to renew it, you can also do so online. You simply sign in at the library, press My account and you will be guided to a page where you can purchase a card. 
If any question arises, please contact us via phone: 411 6100  or Facebook Messenger.
We're at your service!
Click here for info on the latest Covid-19 restrictions.